Heroin addiction and the subsequent aftermath of it have exploded since 2000, with over 300,000 Americans dying of opiate overdoses since the turn of the millenium. In 2017 the opiate epidemic claimed 28,466 overdose deaths from fentanyl, 17,029 deaths from prescription opiod overdoses and 15,482 deaths from heroin overdoses.
The 2016 National Survey on Drug Use and Heath found that 948,000 people in the United States reported using heroin in the past year. Of those people, 170,000 were first time heroin users – almost double the 90,000 first time users from 2006. This is largely fueled by 18 to 25 year old users, by far the fastest growing segment.
Research by The National Institute on Drug Abuse has indicated that over half of heroin addicts started out using prescription pain pills. Prescription opiate pain medications like hydrocodone, oxycodone, and morphine are some of the most abused drugs in the United States. Their usage is often the result of an injury, illness, or surgery that calls for medication. With extended use, the good feelings of euphoria become less and less, and a person begins to take their pain killer more frequently and with higher doses. When their supply of pain medication runs out, they move to heroin which is more readily available and prevents physically dependent users from going into withdrawal.
The Atlanta Heroin Triangle
Georgia ranks among one of the worst states for opiod overdoses in the country. In 2017 alone 1,014 opiod overdose deaths were reported in the state. That's right, 1,014 Georgia heroin addicts lost their lives in one year lone. Of those deaths, 568 were due to prescription opiates, 419 were due to synthetic opiates and 263 deaths resulted from heroin overdoses.
The vast majority of Georgia's opiate related deaths can be attributed to Atlanta. Ground zero for Atlanta's heroin problem is an area called the "Heroin Triangle" located north of the city. The Atlanta Heroin Triangle consists of mostly suburban upper-middle class neighborhoods in north Atlanta and starts north of the city, running northwest to Marietta, then east to Alpharetta, Duluth and Johns Creek, then runs southwest through Dunwoody down to Sandy Springs. The Triangle saw a 4000% increase in opiate related overdose deaths over a 5 year period, prompting A&E to come to Atlanta to film an entire season of Intervention focused in this area.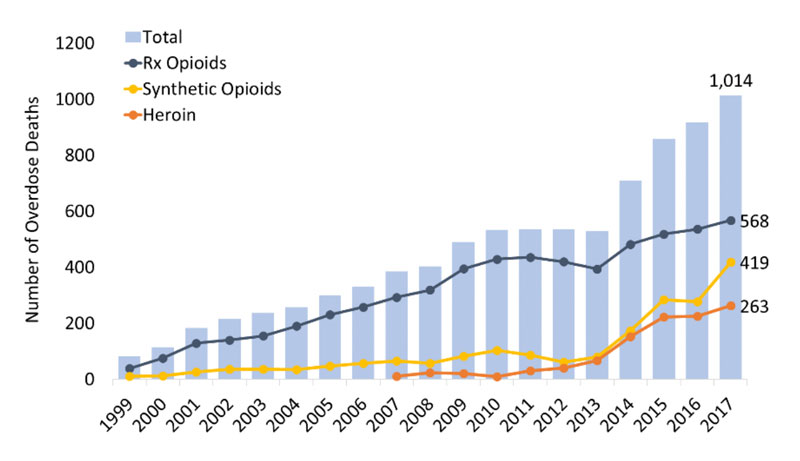 Atlanta Heroin Rehab and Opiate Treatment
Rehab can take time, but it is necessary for the best chances of a full recovery. Ready to get started for your or a loved one's rehab recovery? Call us today at 770-299-1677. Our caring and professional counselors are here 24 hours a day to offer support and to answer any questions about our rehab services.
Heroin addiction is the habit of compulsively seeking the drug despite the adverse effects on physical, mental, and emotional health. Heroin is an opiate and a common type of street drug processed from morphine or the seed of the opium poppy plant. This highly addictive drug is snorted, smoked or taken as an injection into a vein. Use may start as a "one-time" experiment for recreational purposes and end up becoming a habit as the person builds up a tolerance level for the drug. People dependent on heroin may also use other opiates as an alternative when they cannot get the drug. Addiction can destroy the person's family, relationships or career, yet they may continue to abuse the drug. This is because heroin addiction is a disease of the brain. It doesn't resolve on its own and needs to be treated systematically to prevent relapse.
With Heroin addiction out of control it's not surprising that the number of people that meet the DSM-IV criteria for heroin dependence exploded from 214,000 (2002) to 626,000 (2016). Because of the rampant increase in heroin abuse within the 18-25 demographic, young adults aged 18 to 25 now comprise 26% of new admissions in the rehab industry (up from 11% in 2008).
Deciding on Outpatient or Inpatient Heroin Rehab
There are several factors to be considered in deciding on a treatment program in Atlanta. They include:
The length of time heroin was used and how severe the addiction is
Whether other drugs or substances, e.g., cocaine, meth or alcohol is being used
The existence of co-occurring mental health disorders, e.g., depression
Preexisting medical conditions, e.g., pregnancy or epilepsy
Whether the program allows enough time for you to recover
Your ability to afford the cost of treatment
Your level of commitment to supervised inpatient treatment or unsupervised outpatient treatment
Outpatient Treatment Services
Medically-supervised detox
Individual or group counseling
Cognitive Behavioral Therapy (CBT), motivational interviewing (MI) and holistic therapy
Family counseling
Participation in 12-step programs such as Heroin Anonymous (see schedule below), Alcoholics Anonymous and Narcotics Anonymous.
Outpatient detox can last for weeks, even months, and it may take additional months before you are stabilized to the point where you no longer crave heroin. During detox, you will also receive psychological and emotional support the same way inpatient clients are treated. Psychological therapy is designed to help you uncover the underlying reasons for heroin addiction and equip you with coping skills and tips to maintain sobriety after rehab.
Medications for Opiate Addiction
There are a number of medications prescriped and approved for Medication Assisted Therapy (MAT) of opiate dependence. They can eliminate cravings and do cut down the need for future use. There are a range of typically prescribed medications for people undergoing heroin withdrawal symptoms. They include the following:
Methadone
Buprenorphine
Naltrexone
Suboxone
We look at each of these in greater detail below.
Methadone
Methadone is a synthetic opiod agonist which works by interacting with the opiate receptors in the brain to eliminate withdrawal symptoms and relieving drug cravings. While it activates and binds to the same receptors as heroin and opiod pain medications, it does so more slowly that other opiates, preventing the euphoric high consistent with heroin abuse.
Some people criticize Methadone as it has the tendency to build up within the human body if you take it taken for too long or in too high a quantity. It should always be prescribed under close medical supervision.
Buprenorphine
Buprenorphine is a partial opiod agonist. This means it binds to opiod receptors, but activates them with less intensity than that of a full agonist like methadone. Fortunately the impacts it creates are far more limited. It is a powerful ally in dealing with the pain of withdrawal and helping to satisfy the incessant cravings created by heroin and pain pills.
Naltrexone
Naltrexone has a long and successful history of treating serious alcoholism. It works by blocking out the receptors that sense opiates. This cuts down on the cravings for heroin too. It also eliminates the pleasurable effects that heroin produces.
Suboxone
Suboxone works through a potent combination of Naltrexone with Buprenorphine. This pill addresses the agony of the heroin withdrawal symptoms while blocking any pleasant effects that heroin produces within the brain.
Regardless of the type of treatment sought, it's important to understand that much of the results depend on your commitment to end heroin abuse and continue to live sober after rehab. Long-term recovery hinges on you making a robust relapse prevention plan which will include a social and emotional support network. This network will be made up of family, friends, community support groups, and a therapist who will help motivate and keep you accountable.
Heroin Anonymous Atlanta 12 Step Meeting Schedule
The first HA meeting was held in Phoenix Arizona in 2004. In the preceding decade it spread across the country and world. Atlanta's Heroin Anonymous has been one of the most powerful movements in the local recovery community over the past few years. Heroin Anonymous is based on the Alcoholic's Anonymous Big Book and is a 12 step fellowship that welcomes all people that have a desire to stop using heroin and opiates. Reflecting the reality and demographics of Atlanta Heroin Addiction, the fellowship consists of a great deal of young people (15-35), though all ages are welcome. Participation in a 12-step program like Heroin Anonymous is a vital part of recovery, both during and after drug rehab.
Monday
Out of Hell – 7:00pm
The Triangle Club
702 Lakeshore Circle NE
Atlanta, GA 30324
Room C
Tuesday
Nod Squad – 8:00pm
North Atlanta Church of Christ
5676 Roberts Drive
Dunwoody, GA 30338
Room 106
The Extension – 8:00pm
The Extension
1507 Church Street Ext NE
Marietta, GA 30060
Wednesday
No More Bluffing – 8:00pm
Freedom Club
47 Fairground Street
Marietta, GA 30060
(Above Happy Charley's)
Thursday
Back To Life – 8:00pm
How Place
6268 Bells Ferry Road
Acworth, GA 30102
Last of a Dying Breed – 8:00pm Big Book Study
The Summit Wellness Group
745 Hembree Place
Roswell, GA 30075
Plugged In – 8:00pm
Dawsonville United Methodist Church
21 Church Street
Dawsonville, GA 30534
Friday
The Nod Squad – 6:00pm
Living Proof Recovery Building
408 Shorter Avenue
Rome, GA 30165
Gutter Bravado- 7:00pm
Safe Harbor
52 Gwinnett Drive
Lawrenceville, GA 30046
Legacy Group – 8:00pm
Decision Point Wellness Center
10700 State Bridge Road #6
Johns Creek, GA 30009
How Place HA – 8:00pm
How Place
6268 Bells Ferry Road
Acworth, GA 30102
Saturday
H.A.R.D. (Heroin Addicts Recovering Daily) – 8:00pm
North Springs United Methodist Church
7770 Roswell Road
Atlanta, GA 30350
No More Bluffing – 8:00pm
Freedom Club
47 Fairground Street
Marietta, GA 30060
(Above Happy Charley's)
Sunday
Boi Only – 6:30pm
47 Fairground Street
Marietta, GA 30060
(Above Happy Charley's)
Smackdown – 8:00pm
North Atlanta Church of Christ
5676 Roberts Drive
Dunwoody, GA 30324
(Above Happy Charley's)
**Please submit any HA meeting changes or additions, as well as any Georgia specific Heroin Recovery resources by leaving a comment below
Georgia Opiate Recovery Resources