In 2015, over 25,000 people sought help at a Georgia alcohol rehab. This represents a massive 55.8% increase since 2005. Of the clients treated for substance abuse, 43.3% had co-occuring mental health disorders. More than 50% of the people who sought addiction treatment in Georgia cited alcohol as their primary substance of abuse. The vast majority of the remaining addicts seeking rehab report alcohol abuse as a secondary or tertiary addiction issue.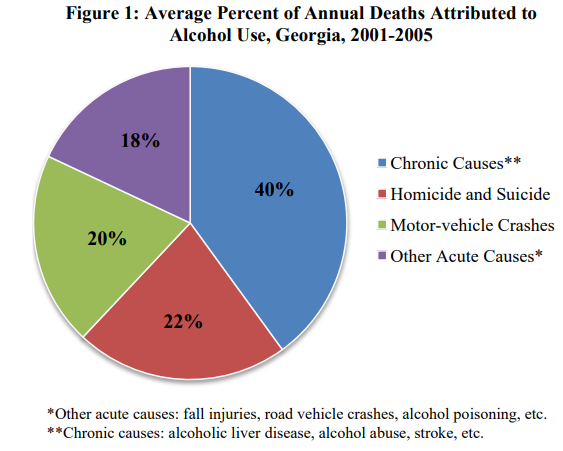 Here are the current statistics on Georgia alcohol abuse:
6.9% of Georgians are heavy drinkers. Heavy drinking for men is defined as drinking more than 2 alcoholic drinks a day on average over the past month and for women as drinking more than 1 drink of alcohol a day on average over the past month.
Heavy drinking in Georgia has increased 18.8% since 2005.
16.8% of Georgians binge drink.

Binge drinking is defined as consuming 4+ drinks in a single occasion for women and 5+ for men.

A whopping 23.4% of all driving fatalities in Georgia are alcohol related.
Athens in Clarke County, GA has the dubious distinction of being the drunkest metro area in Georgia.
An average of 3,012 people die from acute and chronic alcohol use in Georgia each year. Of those deaths, 2,126 are men and 886 are women.
Each year more than 19,000 people are arrested in Georgia for driving under the influence of alcohol.
We'd love the opportunity to help you during this overwhelming and difficult process. The Summit Wellness Group is located in Roswell, Georgia and all of your calls with be directed to one of our staff on location. Our sincere passion is helping people overcome addiction and live full, meaningful and healthy lives. Call us 24/7 at 770-299-1677. If we aren't the right fit for your substance abuse treatment needs then we'll utilize our expertise and connections within the Georgia treatment industry to assist you in finding the rehab that is best equipped to help you.
Types of Alcohol Treatment
It is important to consider all of your needs when searching for alcohol rehab treatment. Rehab centers differ in the services that are available. These differences can be crucial to your success. Some levels of alcoholism require detoxification with 24-hour medical care available. Other patients may need therapy for dual diagnosis. Other important factors include the severity of your addiction and the type of assistance you require. It is always a good idea to determine what kind of follow-up support is available with rehab. There are 4 major types of alcohol treatment available. They include detox, inpatient treatment, outpatient treatment and sober living. Typically more than one of these treatment types will be necessary to maximize the success of recovery from alcoholism.
Georgia Drug & Alcohol Detox Centers
There are a total of 54 different Georgia alcohol detox facilities according to the most recent SAMSHA research study of treatment facilities. Of these detox facilities only 19 provide residential inpatient detox. Medically-monitored alcohol detox programs are vital for individuals who struggle with a physical addiction to alcohol. Severe alcoholism has the potential to lead to serious adverse effects on the body (including death), prompting the need for a Georgia alcohol detox program. Here are some of the dangers that occur during the alcohol detox process:
Sweating
Nausea/Vomiting
Shakiness/Tremors
Internal Bleeding
GI Bleeding
Liver Damage
Kidney Damage / Failure
Seizures
Heart Attacks
Heart Failure
Comas
Death
In addition to being monitored for these serious health issues, doctors and nurses at the alcohol detox can help mitigate the painful symptoms of withdrawal. You may be prescribed medications to help you throughout the detox process. Some of these medications might be used on a longer-term basis to help with alcohol cravings as well.
After you've detoxed, you can enter your main recovery program. This is where you'll focus on the mental aspect of addiction. Addiction is a mental illness as much as a physical one, and recovery programs treat it as such.
Georgia Inpatient Alcohol Rehab
There are 76 inpatient alcohol rehab centers in the state of Georgia. Of these, 34 provide short-term residential treatment and 62 provide long-term residential treatment (with some centers providing both). Most Georgia inpatient alcohol rehab programs last 30 days, though they may run as long as 90+ days depending on the individual client's needs. Inpatient programs are optimal if you have relapsed in the past or if you are unsure about maintaining sobriety on your own.
Also called residential rehabs, inpatient rehabs (level 3 care) provide services in a structured environment that allows you to live on location while undergoing treatment. People with severe drug addiction are more likely to be recommended to inpatient treatment. The more chronic the substance abuse the longer it may take to complete the withdrawal process and the more severe the withdrawal symptoms. For this reason, a professional medical team is present 24 hours a day to supervise the detoxification and administer medication to help you endure the process. Mental health specialists are usually present to provide emotional support if you develop psychological symptoms such as mood changes, anxiety, or depression. While inpatient treatment is proven effective in cases of severe drug abuse, clients are faced with major challenges such as absence from work and being away from family or loved ones and do not develop the transitional tools they need to reenter their lives and maintain their sobriety without transitioning into outpatient treatment.
Georgia Outpatient Alcohol Rehab
There are 270 outpatient substance abuse treatment centers in Georgia. Of these outpatient Georgia alcohol rehab facilities, 245 offer regular care, 108 offer intensive outpatient programs and 52 Georgia treatment centers offer partial hospitalization (day long) outpatient treatment. Outpatient treatment facilities offer programs that are accessible to individuals who are not interested in living at a treatment center or for those who are unable to commit to inpatient alcohol treatment due to work and financial obligations.
Intensive outpatient rehab involves an arrangement where the client receives treatment for drug or alcohol addiction without needing to live in rehab for the duration of treatment. These programs are designed with certain clients in mind. They include people who have a job or career to maintain, a family to care for, school to attend or some other important commitment that cannot be 100% sacrificed while seeking treatment. Working professionals typically fall into this category of people.
Intensive outpatient programs are usually packaged in a similar way as inpatient programs. They each require a certain number of therapeutic contact hours. The American Society of Addiction Medicine (ASAM) recommends that intensive outpatient clients have a minimum of 9 hours of therapeutic contact per week. The precise number of hours will vary from person to person and is heavily dependent on how severe the addiction is and the need for treating underlying mental health issues, e.g., anxiety disorder.
Outpatient alcohol treatment gives you more freedom and flexibility than inpatient treatment does. At the same time, you will be given the same level and quality of care that you would get at an inpatient facility. Your treatment plan will probably include the following.
Medical detox – Withdrawing "cold turkey" from alcohol can be dangerous. You'll begin your treatment with a safe, medically-supervised detox that helps you go through the withdrawal process while mitigating some of the painful and dangerous symptoms inherent in the detox process.
Individualized plan – After a thorough assessment of your history and current status, you'll receive a plan that's personalized for you.
Focused, intensive therapy – At an Atlanta rehab, you'll get therapy that is based on proven therapeutic techniques that have been shown to work for alcoholics.
Classes and meetings – You'll take relapse prevention training, learn about your addiction and learn to live without alcohol.
Family and social support – Get help for your whole family and learn about resources to help you find a job, housing or legal help.
Auxiliary services also form part of the program and may include these:
Family therapy
Holistic therapy
Occupational therapy
Skills development
Referral to a 12-step program or other community-based sober groups
24-hour phone support
Typically, you'll spend several hours each day at the facility. These hours will be spent in therapy, classes, meetings and other activities. Depending on the outcome of your initial assessment, you might have to attend for 30, 60 or 90 days. This flexible schedule allows you to maintain your regular life while you're getting treatment for your alcoholism. If you're here from another state, you'll have the opportunity to start fresh in a new environment. Studies have found that outpatient rehab works just as well as inpatient rehab.
Georgia Sober Living Homes
If you choose to go to an outpatient treatment center in Atlanta, it's highly recommended that you give your recovery the best chance possible by staying in a sober living home at the same time. There are many benefits to staying in sober living – particularly when done in tandem with outpatient treatment:
You'll be in a safe, clean and comfortable environment free from drugs or alcohol.
Curfews and other rules help you stay accountable.
Your recovery is supported by attendance at sobriety support meetings such as AA and NA. Most Georgia sober living homes require participation in 12 step meetings.
You can continue to work or take classes.
You start practicing your new coping skills in a safe, controlled way.
People who spend time in sober homes have lower relapse rates than people who don't.
Alcohol Rehab for Professionals
Outpatient treatment for professionals offers a number of benefits including the following:
Flexibility of Program Schedule
As a working professional, you may have difficulty getting extended time off from your job to live in rehab during treatment which can last for 28 or more days. With outpatient therapy, you will be able to go to work and carve out time to attend treatment sessions. This could be for a certain number of hours per day or a few hours several days per week. The center may be willing to be flexible and allow you to see your physical or mental health professional after work hours. At the end of each session, you can return to your regular daily routines. Evening addiction treatment is particularly popular among professionals.
The Need for Privacy
The fear of others knowing their struggle with substance abuse is one of the main reasons many professionals may be reluctant to seek addiction treatment. And for noble reasons. There is no telling who you could run into at an inpatient drug or alcohol treatment facility. It could be someone you know very well, such as a relative, professional colleague, even your boss!
You may be in a better position to protect your privacy and reputation in the more private setting offered by outpatient programs. You can arrange to meet one-on-one with your therapist and may be able to avoid group meetings or be involved in smaller groups.
Level of Alcoholism
Studies show that people with mild to moderate addiction who need to remain employed or keep other commitments can be successfully treated in an outpatient setting. People whose alcoholism is not considered chronic do not usually experience the same severe intensity of physical, emotional, or psychological withdrawal symptoms as those needing to be medically supervised in an inpatient setting. Their risk of relapse is also lower. Therefore, outpatient treatment may be the more appropriate option.
City Specific Alcoholism Recovery Guides
Looking for area specific alcohol recovery information in Georgia? Find area specific 12 step and non 12 step alcoholism recovery support meeting schedules, as well as tips for sober fun and much more:
Finding the Right Georgia Alcohol Treatment Center
There are currently more than 322 treatment facilities in Georgia – an incredibly long list to wade through. Here are some things to consider when researching which Georgia alcohol rehab is right for you or your loved ones.
Initial Considerations
There are many factors to consider when deciding between Georgia alcohol treatment centers. Before you begin your search, it is important to know what you are seeking. It is a good idea to make a list of requirements that will be necessary for your treatment. Some of the following factors are important to consider.
Do you need detox? Some centers may not offer detox.
Are you under a court order? If you are attending rehab because of a legal problem, there might be an approved list of centers to choose from.
Do you need inpatient treatment? Some centers are for daytime treatment only. If you are seeking 24-hour-care, it is important to search specifically for inpatient centers.
Do you have health insurance or financial means for treatment? Rehab center costs vary greatly. You must consider your financial situation when building your list.
Do you have mental disorders or multiple addictions? Some rehab centers are better equipped to handle dual diagnosis.
After you have an idea of the type of treatment you need, it will be easier to search for the right center in your area.
Individualized Care
The best Georgia alcohol rehabilitation centers will offer customized, focused care formulated to meet the individual's specific needs. Customized treatments have been shown to work better than generalized, equal-treatment programs. Individualized treatment encourages the completion of rehab programs and increases the chances of maintaining recovery.
Studies show that individualized programs maximize the patients' ability to achieve and maintain long-term recovery. This is partly because it usually takes proper motivation for most patients to complete the program and keep on applying the practices they've learned. This is one way of ensuring treatments have a positive effect.
Quality and Quantity of Rehab Staff
The staff-to-patient ratio is another important factor in treating substance use disorders. The lower the staff-to-patient ratio is, the higher the chances of one-on-one therapy. When deciding between multiple Georgia alcohol rehab facilities, look for those that have enough medical employees to ensure the well being and health of all their patients. Proper care is of vital importance during the processes of rehabilitation.
The level of trust built between staff members and patients might be a more significant factor than the staff's credentials and accreditations. Since people with substance use disorders can often have serious trust issues, there has to be some level of empathy from the beginning. As such, doctor-patient relationships should be based on trust in order to help break down perceived barriers and build real connections. Trust can make all the difference when treating alcoholism.
The Search Process
An online search is the easiest way to begin. There are many websites that offer search options using your city or zip code. Some places allow you to insert your insurance information and other important additions to your search.
Disregard 3rd party alcohol rehab review related websites. Reviews on these websites are easily and frequently manipulated by staff and paid reviewers.
The only reliable review sites you should refer to when making this important decision are Google Maps / Google reviews and Facebook reviews. Look specifically for lengthy reviews by former clients and remember that while these are the only 2 reliable review resources for rehab, they can still be manipulated.
Virtually every website or online directory that features Top 10 area specific rehab lists or lists treatment centers by state compiles and orders their lists based on paid sponsorships by the treatment centers. Many of them also engage in paid referral programs too. So you will rarely be shown or referred to the best treatment centers, but rather the treatment centers willing to pay the most for advertising and/or client leads.
Questions to Ask Rehab Centers
Create a list of centers that match your needs. Include phone numbers and locations. Having many centers that match your criteria will ensure you find the right treatment. To further narrow your search, it is best to contact and even visit centers before making your final choice. Competent personnel and a good atmosphere will ease apprehension about treatment. Contact the centers on your list to ask important questions regarding styles of treatment, restrictions, and medical care. Having a conversation will help you determine the center you feel most comfortable with. Some important questions regarding treatment may include:
Do you offer alcohol detox?
How long does alcohol treatment last?
Do you offer managed medication treatment?
Do you offer group therapy and individual therapy?
Are doctors and therapists available at all times?
Do you have an aftercare program?
Aftercare Resources and Treatments
When searching for a Georgia alcohol rehab it is important to consider the follow-up and aftercare resources that are available at each location. Aftercare is extremely important when recovering from a serious addiction, especially an addiction to alcohol which quickly leads to physical dependence and reliance.
Choose a Georgia alcohol rehab facility that provides an array of outpatient and aftercare resources once you have completed your inpatient program. Volunteering, group meetings, and even individual therapy may be offered from the facility you choose. Steering clear from temptation and maintaining sobriety is challenging after completing an inpatient program, which is why follow-up and aftercare resources matter.
Alcoholism Recovery Resources in Georgia
There are a wide range of resources available to
Georgia AA – Official homepage for Alcoholics Anonymous in Georgia. Find information on workshops
Atlanta AA – Includes a calendar of Atlanta AA events, meeting information and contact info.
Georgia Al-Anon – Official homepage for Al-Anon in Georgia.
Georgia Crisis Line – 1-800-715-4225
Sources For Statistics