Our Atlanta Dual Diagnosis Alcohol & Drug Treatment Center
The Summit Wellness Group's Midtown Atlanta dual diagnosis alcohol and drug treatment program is the highest rated in Atlanta. Our facility is in a beautiful, newly renovated historic building that dates from the 1940's and features a wide range of highly experienced, compassionate, and respected clinicians with decades of combined experience treating addiction and alcoholism.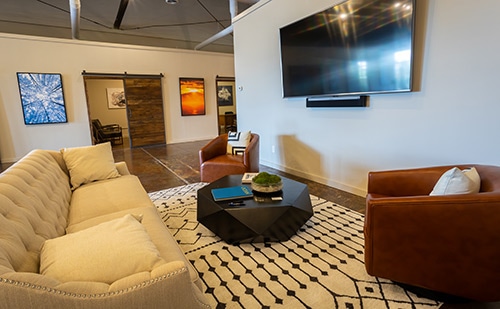 Checking Into an Atlanta, GA Dual Diagnosis Rehab Center
Atlanta is the capital of Georgia and has a population of just over 498,000 people within the city proper, although the Atlanta-metro area is home to just over 6,000,000 people. The most abused substances in Atlanta include marijuana, alcohol, cocaine, crack, heroin, crystal meth, and prescription pills (such as benzodiazepines or opioids). As a major part of the Atlanta-Carolina's High Intensity Drug Trafficking Area, this region of Georgia has seen an extremely heavy drug presence over the last two decades. That being said, the recovery community of Atlanta and north Georgia is extremely vibrant and active.
Important Considerations For Finding Treatment
While most Atlanta drug and alcohol rehab facilities share some characteristics, they also differ in some important ways. Knowing what to look for in a rehab center will enable you to select a facility that will give you the best chances for a sustained recovery. Some of the things to consider may include:
Check out the facility's qualifications. Just as you would do in evaluating any business, you should check to see that the facility is properly licensed, insured, and accredited. This will help you ensure the facility follows state and federal regulations in caring for patients. Optional accreditations can also demonstrate a facility's commitment to going above and beyond for their clients.
It's also important to find out if the individual clinicians are licensed. This may not always be the case and you want to ensure you're placing your trust in the hands of trained, licensed professionals. This goes for all clinicians with whom you'll work throughout the treatment process.
Reviews can also be very helpful when looking for rehab centers. Read some Google reviews and see what other people have to say about a particular program.
Helpful Atlanta, GA Addiction Support Resources
In addition to professional addiction rehab and treatment, there are other things that someone can do to help their recovery as well. Getting involved in local recovery fellowships and finding a good therapist can also help someone build a solid foundation in recovery.
Alcoholics Anonymous – AA Meetings near Atlanta.
Al-Anon– Find support meetings locally and virtually.
Narcotics Anonymous – NA meetings in Atlanta.
Crystal Meth Anonymous: Find CMA meetings anywhere in Atlanta.
Cocaine Anonymous: A CA meeting guide throughout Atlanta.
There are many prescription drug drop boxes in Atlanta, the most central of which can be found at the Fulton County Sheriffs Office located at 185 Central Avenue SW, Atlanta, GA 30303. You can safely dispose of prescription medication here Monday through Friday between the hours of 8:00 am to 5:00 pm.
There are also several hospitals in Atlanta that have 24-hour emergency rooms to help with drug or alcohol-related emergencies. One of the more central hospitals is Emory University Hospital Midtown located at 550 Peachtree Street NE, Atlanta, GA 30308.
GET IN TOUCH WITH US TODAY