Kratom Addiction Treatment
41% of people who use kratom do so to treat opioid dependence. Kratom may seem harmless, but it can actually be as addictive as other dangerous drugs and may require addiction treatment.
There is very little research on the long-term physical effects of kratom addiction.
We do know that the psychological effects that occur can
be improved
through professional care
.
The Summit Wellness Group's kratom rehab center provides the most effective integrative talk therapies, psychiatric care, holistic therapy, and nutritional programs to help our clients recover from kratom addiction
.
Our Approach to Kratom Addiction Treatment
People often mistake the term legal for safe. Unfortunately, the legality of kratom is not preventing people from becoming addicted to the substance. Though believed to help curb distressing opioid withdrawal symptoms, we are finding that it is as addictive. Unfortunately, kratom poses its own set of negative consequences to those who become addicted.
Kratom still presents many challenges due to the current lack of understanding and research. The Summit Wellness Group utilizes every tool at our disposal to treat kratom addiction. Our team is constantly fine-tuning our program to incorporate the latest research and medications as they become available. We are committed to supporting our clients throughout the entire recovery process.
Our treatment programs are customized to each client, but they can be broken into three distinct steps:
Step #1 – Safe Detox Support
Detoxing from kratom is similar to opioid withdrawal, but there are some added risks and difficulties. The intensity and duration of kratom withdrawal may vary depending on how much was used and for how long. One of the greatest risks to recovery is the high rate of relapse during withdrawal. This means that it is critical to get through withdrawal and into treatment in the safest and most comfortable way possible, thus giving someone the best chance to achieve long-term recovery.
There are significant risk factors that increase possible health conditions during acute withdrawal. Medical supervision is the safest environment for detoxing properly. Many withdrawal symptoms can be treated with medications. The Summit Wellness Group partners with a variety of detox facilities. Clients are monitored around the clock by trained medical staff to ensure the least amount of discomfort possible. Some of these side effects we look to alleviate include:
Step #2 – Managing Cravings with Medication
Kratom is a complicated drug that contains many psychoactive compounds, several of which are still unidentified. What is known for certain is that kratom acts as a stimulant in low doses. At higher doses, it acts as an opioid painkiller. The symptoms of withdrawal are similar to opioid withdrawal. These symptoms will take time to resolve naturally. In the meantime, there are several types of medications that can help treat the symptoms.
Clients undergo an evaluation with a psychiatrist to see which medications, if any, may be helpful for them. Depending on someone's unique situation and symptoms, a customized treatment plan will be fine-tuned over the course of treatment. There is no "one size fits all" psychiatric solution to kratom addiction recovery. Medications may need to be adjusted as necessary throughout the course of treatment. Some of the medications which may help include:
Opiate Antagonists (naltrexone, naloxone, or buprenorphine)

Blood Pressure Medication
Step #3 – Treatment Options
At The Summit Wellness Group, we recognize that everyone has their own unique experience and situation. We pride ourselves in the work that we do with our clients to provide customized treatment plans that address their needs. Some considerations we look at include:
The length of time that kratom was used and how much was used

Other drug or alcohol use

Any co-occurring mental health issues

Pre-existing physical health conditions

Current living and work situation

Insurance coverage or self-pay

Preference for unsupervised outpatient or supervised inpatient
We employ a variety of therapeutic techniques that are all clinically proven to help someone begin their recovery. Cognitive behavioral therapy (CBT) or dialectical behavior therapy (DBT) are combined with group therapy and trauma-informed care to provide our clients with the most comprehensive level of care needed.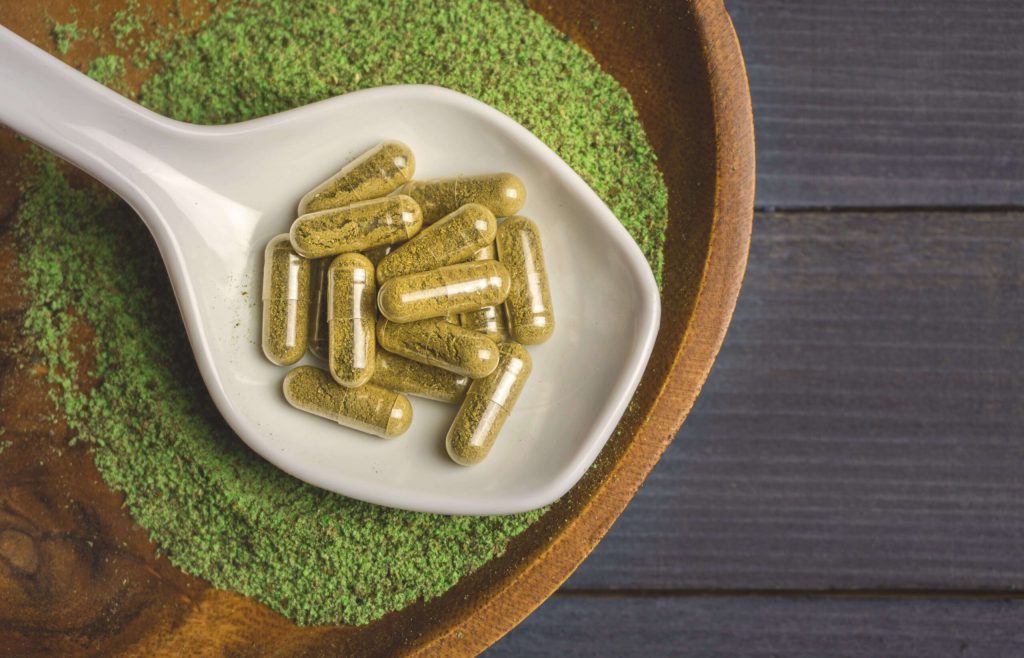 Why Choose Us For Kratom Addiction Treatment?
There are currently only a few professional kratom addiction treatment programs across the country. Why should you choose The Summit Wellness Group to help?
Kratom can be quite disruptive to both the mind and body. Aside from external help provided by counseling and medication, the body itself can be mobilized to aid recovery. This is the goal of our holistic therapies, to engage the body as an active player in the journey of recovery. Some of the holistic therapies offered as part of our kratom addiction treatment program include:
Yoga, Therapeutic Fitness and Adventure Therapy. These more physical therapies help exercise the opioid and adrenaline systems within the brain and body the way they were intended to be used. This can bring these systems back to a normal level of functioning.
Nutritional Classes. A well-rounded diet can provide resources the body and brain need to repair the damage done by kratom addiction.
Chiropractic Care and Massage Therapy. Reduces stress and anxiety.
Art Therapy and Guided Meditation. Works to strengthen the expression and communication of ideas and feelings. This can help in better articulation of struggles or challenges they may be facing.
We are Gold Seal Joint Commission on Accreditation of Healthcare Organizations (JCAHO) certified. We also hold certifications with the Georgia Department of Community Health and are part of the National Association of Addiction Treatment Providers. Though we believe in our methods and have seen firsthand how effective our team is, these certifications prove that healthcare organizations have reviewed and approved what we do.
Kratom addiction can be difficult to understand. There is so little research, but our staff is dedicated to remaining as up-to-date as possible on the latest advances. Through this, we are able to modify our treatment plans to ensure our level of care is always at its highest. Not only do we keep up to date, but we remain dedicated to understanding the individual struggles of our clients so that we can better serve them.
FAQ Kratom Addiction Treatment
Some more information and answers to frequently asked questions about our kratom rehab program include:
When Is It Time to Seek Help For a Loved One?

Though kratom is a legal substance in parts of the United States, its effects can be devastating when abused

.

If you believe that your loved one is abusing kratom, seeking immediate help is critical before their tolerance becomes high and they turn to opiates

.

If they begin to justify their increased use and it is clear they have become reliant on the substance, talk to them about how little

is known

of the long-term effects

. Early intervention is the only way to ensure no further harm will come to their brain or body.

Reasons to Seek Treatment ASAP

So much is unknown about the use of kratom and how it can affect people long-term. The possibility of health consequences is very real. Seeking treatment before the addiction causes irreversible long-term effects is critical.

If you feel that kratom addiction has interfered with your normal, everyday life, considering professional treatment is the safest option for detox and long-term recovery, especially since addiction to this drug mimics opiate addiction

.

Warning About Kratom Overdose

It is very possible to overdose on kratom. The deaths related to kratom overdoses are increasing each year.

Because it mimics opioids, the body and brain become dependent on the drug, requiring more and more to feel those same effects

.

Kratom use can also cause significant withdrawal effects, leading to a high rate of relapse or progressive use of more powerful opioids

.
You Aren't Alone
We're Here To Help
We'd love the opportunity to help you during this overwhelming and difficult process. Our sincere passion is helping people recover so that they can live full, meaningful, and healthy lives.
Call us 24/7 at 770-299-1677 or fill out our contact form and a member of our admissions team will contact you shortly.