Holistic Rehab For Addiction To Drugs and Alcohol
The Summit Wellness Group's holistic rehab program treats addiction by improving the overall well-being of clients physically, mentally and spiritually.
The Summit Wellness Group offers many different holistic rehab therapies, including yoga, guided meditation, therapeutic fitness, chiropractic care, massage therapy, art therapy, adventure therapy, and nutritional classes. All of our holistic modalities are offered by loving, experienced professionals that truly care about and connect with our clients.
We feature programming that enriches our client's health and alleviates some of the discomforts of early recovery, giving them the best possible chance at long-term sobriety. Find out more about the holistic therapies we offer below.
The goal of holistic therapy in substance abuse treatment is to address the individual as a whole person. Rather than treating someone who suffers from addiction as "sick" and focusing only on their psychological issues, holistic therapy goes a step further and promotes the overall well-being of the person.
A growing amount of research has strongly indicated that, when utilized as part of an inpatient rehab or IOP alongside more traditional methods like the 12 steps and CBT, holistic therapy can improve the chances of getting sober, as well as the overall quality of recovery.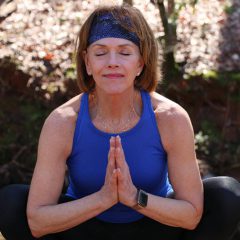 Yoga
Yoga is a body-centered approach to healing depression, anxiety, and trauma. It's used to improve concentration and connect us with our bodies. Yoga is effective in regulating cortisol levels and increases a person's ability to acknowledge our emotions without acting on them. Yoga practice will generate a "release" of negative feelings as you pay attention to your breath. It will help rejuvenate one's mind, body, and spirit to be better equipped to handle the intense stress of early sobriety from drug addiction and alcoholism.
Our RYT200 Certified Yoga Instructors will guide you through a restorative yoga practice that has become one of our most popular holistic rehab classes. Classes focus on gentle movement, stretching, breathing practice, and balance work, with an emphasis on building breath awareness and relaxation.
Studies have found that Yoga increases the levels of GABA in individuals who practice it. This is important to those in early recovery because individuals who suffer from addiction and co-occuring mental illnesses such as anxiety and depression typically have very low levels of this feel good amino acid.
Massage therapy is a mind-body approach that relaxes the body and relieves joint tension by focusing on pressure points. It increases circulation and blood flow, promoting the effectiveness of the lymphatic system. Getting a massage can increase body awareness for clients who are healing from trauma. It may be one of the best ways for one to see significant improvement in the quality of life during early recovery.
Because of its' positive impact on serotonin, dopamine and cortisol – all of which are running haywire in early recovery – massage therapy has quickly become an indispensable tool at both of our Georgia rehab centers.
Guided Meditation in Our Moon Room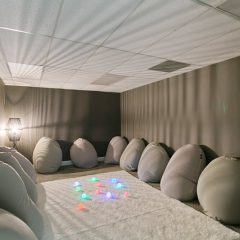 Similar to Yoga, meditation is a major stress reliever, leaving one feeling refreshed and energized. Clients at our holistic drug rehab that are suffering from depression, anxiety, and trauma benefit greatly from meditation as it creates inner peace and improves brain function. Continuous practice can even rebuild your fight or flight response. Incorporating meditation into a weekly routine will also ensure better nights of sleep and detachment from intrusive thoughts and impulses – ultimately helping to reduce cravings and preventing relapse.
Our instructors will guide you through a meditation once a week in our "moon room." The moon room is a dimly lit oasis where moon pods (specially made anti-anxiety float chairs) can be utilized for ultimate comfort. This is the perfect time and place to be quiet and still.
Researchers have found a strong link between regular meditation and improved brain health. A 2011 Harvard study found that 30 minutes of meditation a day for 8 weeks produced positive changes in areas of the brain related to stress, empathy, sense of self and memory.
Adventure Activities are a way to step outside of rehab and experience the world while socializing with peers. From hiking to coffee shops, bowling, and horse farms, there are always new experiences that can lead to finding sober hobbies. Benefits include:
Experiential Therapy – Talk therapy can get monotonous, which can backfire by making clients think that recovery is boring and not worth it. Talking is not the only way that people can reveal and learn to cope with feelings. Engaging in various activities can reveal feelings that clients may not even be aware of.
Socialization in Sobriety – Popular culture makes it seem like people, especially young people, cannot have fun without alcohol, other drugs, or engaging in risk behavior. That cultural message cannot be further from the truth. Unfortunately, this message hinders many addicted individuals from pursuing and maintaining recovery. Outdoor therapeutic activities help addicted individuals realize that they can socialize and have fun in recovery. The activities that require teamwork show that people can foster even closer bonds without alcohol or drugs.
Discovery of Healthy Hobbies – Addiction and potential relapse can be greatly effected by dopamine levels. Dopamine is a neurotransmitter that is released when engaging in a pleasurable activity. Recovering individuals must learn how to keep their dopamine levels up in new ways. Outdoor therapeutic activities help those individuals discover new hobbies that can occupy them and provide them with a natural high. Sunlight in also healthy in lifting people's spirits because it boosts serotonin and levels of Vitamin D and K.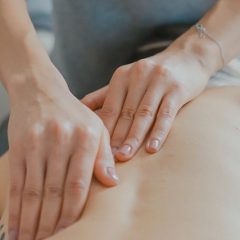 Chiropractic services provide a mind-body approach of relieving tension in the body and bringing one back to alignment. Being out of physical alignment can bring unwanted stress and pain. When dealing with substance abuse disorder, the use of drugs releases acidity and toxins into the body causing imbalances. Like yoga and meditation, chiropractic care can lower levels of the stress hormone, cortisol. Chiropractic care also helps neurotransmitters such as serotonin and dopamine function more efficiently.
Dr. Muller coordinates the chiropractic portion of our holistic rehab programming. He is a highly trained chiropractic physician who does adjustments in a private room once a week. Since each body is different, he utilizes different techniques for each client while maintaining the overarching goal of restoring normal function and balance in the nervous system.
Studies have found that chiropractic therapy can also increase the chances of patients staying in treatment long enough for meaningful change to start to take place.
The old saying "You are what you eat" isn't totally off the mark. When one eats high-quality whole foods, they feel better! Often people in recovery have developed years of unhealthy eating habits. A healthy nutritious diet can change our bodies for the better and lead to a more efficient immune system and can replenish dopamine levels naturally.
We incorporate conscious cooking into our programs and help clients grasp a healthier lifestyle by sharing our knowledge on the benefits of different foods and demonstrates healthy recipes regularly, providing clients the opportunity to learn how to do the recipe at home.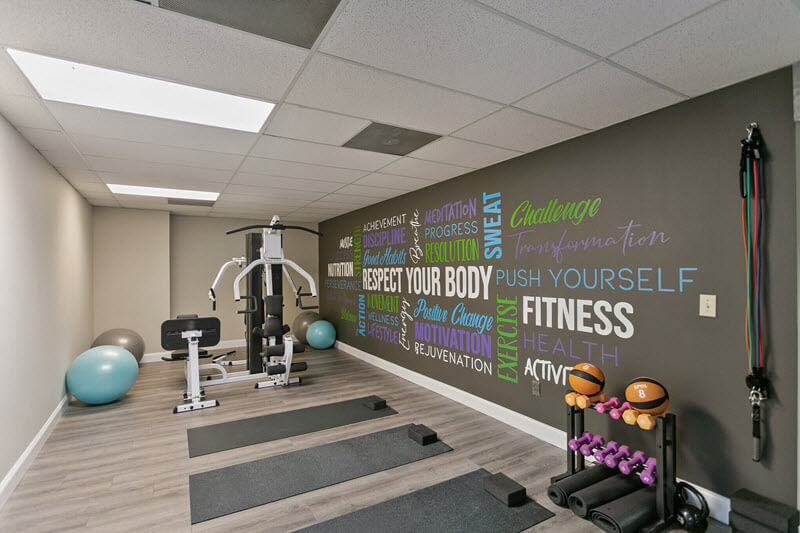 Our fitness class is suitable for every level and non-competitive. Emphasis is on interval training where mobility, flexibility, and functional fitness stimulate the body. Exercise is vital to the healing process. By releasing endorphins, exercise reduces feelings of anxiety and depression in a healthy way.
Gail, our RYT200 and CPT, will serve as your personal trainer. She tailors exercise to your individual needs and utilizes equipment that can benefit you. Gail ensures safe fitness and transitions between outside and inside exercise. Training physical strength can lead to building more mental strength.
Art often serves as an outlet for emotions and recognizes self-expression. Art exercises promote healing through addressing and processing experiences that can be too difficult to verbalize or confront in a direct way. It also can serve as a form of group therapy – as clients often share with peers. Creating art in general serves as a therapeutic process by being a hands-on approach requiring focus. It is also beneficial for overcoming ambivalence regarding recovery.
There is an even stronger correlation of successful outcomes when art therapy is combined with working a 12 step program.
There are numerous benefits to our holistic programs for addiction, especially when combined with our integrative therapeutic approaches, group therapy, and dual diagnosis treatment program. Some of the benefits include:
Reducing cravings for drugs and alcohol
Lessening the severity of post-acute withdrawal symptoms
Improving communication
Enhancing self-reflection
Connecting with hobbies that are healthy and sober
Facilitating a stronger spiritual connection
Improvement of overall physical and mental health
You Aren't Alone
We're Here To Help
We'd love the opportunity to help you during this overwhelming and difficult process. The Summit Wellness Group is located in Georgia and all of your calls will be directed to one of our local staff members. Our sincere passion is helping people recover so that they can live full, meaningful and healthy lives.
Call us 24/7 at 770-299-1677. If we aren't the right fit for you then we'll utilize our expertise and connections within the treatment industry to assist you in finding the best provider for your specific needs. Alternatively you can fill out our contact form and a member of our staff will contact you shortly.