Georgia Dual Diagnosis Treatment
Almost 40% of individuals struggling with substance abuse also struggle with co-occurring mental illness. To ensure the best possible recovery outcomes, both conditions should be simultaneously addressed by a dual diagnosis treatment facility.
A dual diagnosis disorder describes when a person struggles with two or more conditions at the same time. They are often referred to as co-occurring or co-morbid. It is very common that a person struggling with substance abuse will also struggle with some form of mental illness. One or the other may occur first, but the two often worsen each other unless treated.
Some common co-occurring disorders with addiction are:
Cocaine and Depression
Alcohol and Panic Disorder
Drug Obsession and Schizophrenia
Benzodiazepines and Anxiety
Stimulants and Eating Disorders
Amphetamine Pills and ADHD
How Common Are Co-Occurring Disorders?
Mental health issues often occur alongside substance use disorders. A lack of treatment and care for these comorbid issues can result in negative long-term outcomes, including relapse and overdose. A report by the National Institute on Drug Abuse found that almost 8 million adults suffer from co-occurring mental illness and substance use. More than half of these people never receive any type of treatment. Only 9% will seek treatment through a dual-diagnosis center.
Almost 50% of Americans suffer from dual diagnosis conditions
23% of young adults struggle with dual diagnosis substance abuse and mental illness
Substance use most often occurs alongside anxiety disorders, including generalized anxiety, panic disorder, and PTSD. Drug and alcohol use are also seen at higher levels in those suffering from:
Depression
ADHD
Schizophrenia
Bipolar Disorder
Borderline Personality Disorder
Antisocial Personality Disorder
Drugs and alcohol affect the same areas in the brain as many mental health conditions. The two can often interact and worsen the negative symptoms of one another.
What are the Risk Factors?
There is no specific reason why someone may experience addiction alongside mental illness and vice versa. There are, however, some factors that may increase the risk of these co-occurring. If there is a family history of both, it is likely that this can explain someone's tendency to develop both. Genetics may play a role. There is also a lot to be said for environmental factors that contribute to the development of co-occurring disorders.
If a child grows up around drugs or alcohol, they may have a higher risk for trying these substances at a younger age. This can increase the chances of developing an addiction. Childhood trauma or stress can increase the risk as well, especially if genetic predispositions exist.
Again, people with mental illnesses are at a higher risk for self-medication which can lead to an addiction. Conversely, individuals who use drugs can alter the way their brain works. This can trigger the development of mental illnesses such as anxiety or psychosis. Regardless of which comes first, it is critical to treat both at the same time as they can exacerbate one another.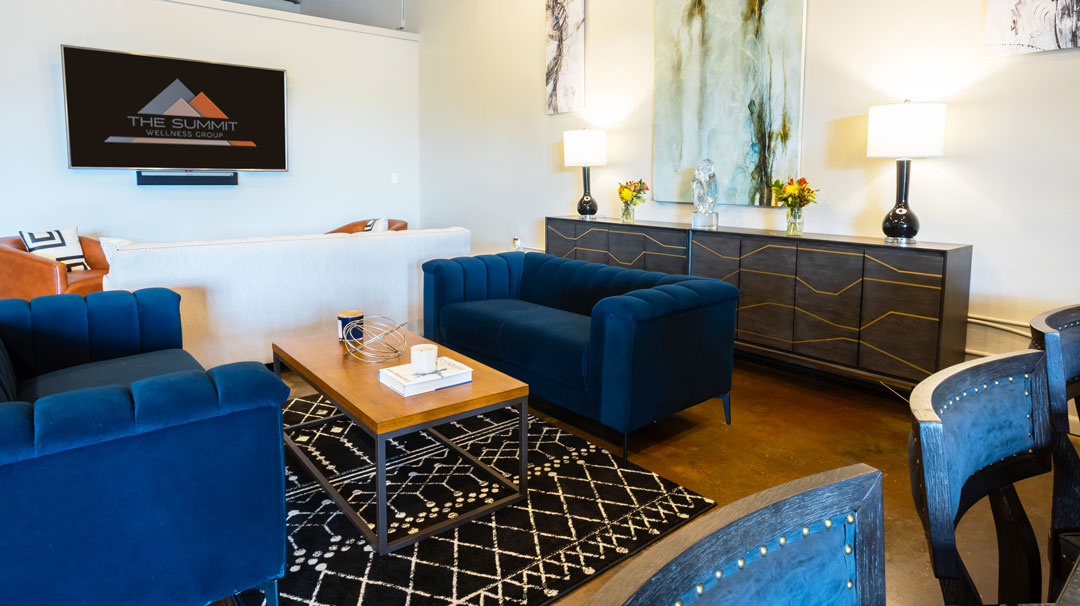 Why Is Dual-Diagnosis Treatment Important?
Dual-diagnosis treatment facilities, like The Summit Wellness Group, focus on individuals struggling with both conditions. Addressing them simultaneously is important for a more effective treatment plan. Most substance use disorders worsen the symptoms of mental illness and vice versa. If only one condition is treated at a time, the risk for relapse increases. People who self-medicate to alleviate symptoms of anxiety, depression, or PTSD can actually worsen those disorders. As their mental health deteriorates, substance use may increase until the cycle becomes almost impossible to break.
We understand that clients with co-occurring substance abuse and mental health conditions need specialized plans. In most cases, these individuals will not benefit from a predetermined schedule that does not meet all their needs. Our clients meet with their individual therapists to design a plan that works for them. We have found that the best approach to dual diagnosis care is through some combination of evidence-based therapies and holistic modalities. This way, we can target multiple areas in each person's life that need healing.
Clients get to choose from a variety of different therapies and treatment options, some of which may include:
Medication Management
Guided Meditation
Cognitive Behavioral Therapy
Brain Mapping
EMDR
What Makes Our Program Special?
Programs at our Roswell and Midtown locations are special and different from most other rehabilitation facilities. We place our clients at the highest level of priority. Clinicians help develop plans and treatments centered around their needs. We offer:
Highly individualized care that caters to the specific needs of each of our clients. Rather than trying to fit you into our programs, we fit our programs to you.
Small group sizes that give you the chance to receive actual feedback from leaders and other clients. This allows you to take an active role in your recovery process. We believe that this helps to validate your individual voice and experience.
A favorable client-to-staff ratio of 2:1. This is far above other Georgia (and National) treatment providers. Our staff can devote more time to each of our clients, ensuring that the level of care we provide never falters.
A diverse group of facilitators and therapists. We can match you with the best team of people who have the knowledge base, resources, experience, and dedication to help battle your mental health conditions and substance abuse together.
Licensed clinicians that run each of our groups and programs. We're always updating resources and methods to make sure we keep our practices up-to-date.
We currently have two locations, one in Roswell and one in Atlanta. Each location fosters a calming, relaxing environment supportive of dual-diagnosis treatments. From the moment you step foot through our front door, we want to make sure that you feel welcomed and cared for.
Our Roswell location is more secluded, surrounded by trees and other natural features. This allows our clients to feel comfortable and private in their recovery journey. We know that this can be a difficult and frustrating time for many of our clients which is why the mountain lodge touches of this location were put in place. Unless they are in session, our therapists' doors are always open. Our clinicians will never pass by you without checking in to see how your day has been and how you're doing.
Our Atlanta rehab facility is located in the center of the city and takes on a more modern industrial vibe with huge windows, tall ceilings, outdoor spaces, private rooms for group and individual therapy, and beautiful artwork that captures the eclectic feel of the city.
One of our main goals at The Summit Wellness Group is to make sure that each of our clients feels important. You are a person who might be struggling with mental health or substance abuse, but that is only one piece of your story. When you come to our facilities, you will be treated with kindness, warmth, and respect by a staff that cares about your life.
Some of our staff have experienced addiction, and some haven't. The diversity within our professionals is what allows us to show that compassion and respect. When we look at you, we see ourselves, and we hope that when you come to us, you feel like part of the family.
One of our first priorities is making sure we stabilize our clients and offer the most comfortable transition to sobriety. Our team of psychiatrists and doctors provide the best medication management plans based on your needs. We offer medications to help manage cravings, treat co-occurring mental health conditions, and minimize post-acute withdrawal symptoms. Proper medication can ease uncomfortable symptoms and make it easier to transition away from addiction.
Our combination of therapeutic techniques includes a wide variety of holistic rehab treatments that we have seen improve clients' chances of leaving our facilities sober and remaining sober long-term. These techniques teach our clients positive, healthy habits that promote continued growth after treatment. Our list of holistic practices includes:
Yoga
Massage Therapy
Guided Meditation
Adventure Activities
Chiropractic Care
Nutritional Program
Therapeutic Fitness
Art Therapy
Acupuncture
Our holistic treatments help reduce cravings, lessen the severity of post-acute withdrawal symptoms, improve self-reflection, promote healthy hobbies, foster a stronger spiritual connection, and improve physical and mental health.
Our expert therapists, clinicians, and medical professionals each have experience in treating individuals with substance abuse and the following co-occurring disorders:
You Aren't Alone
We're Here To Help
We'd love the opportunity to help you during this overwhelming and difficult process. The Summit Wellness Group is located in Georgia and all of your calls will be directed to one of our local staff members. Our sincere passion is helping people recover so that they can live full, meaningful and healthy lives.
Call us 24/7 at 770-299-1677. If we aren't the right fit for you then we'll utilize our expertise and connections within the treatment industry to assist you in finding the best provider for your specific needs. Alternatively you can fill out our contact form and a member of our staff will contact you shortly.