Cocaine Addiction Treatment
Nearly 2 million Americans currently use cocaine. The mental and physical effects of cocaine use can be very dangerous and life-threatening.
Users may experience both physical and mental consequences of prolonged use. Treating both forms of damage is first priority when a client enters cocaine rehab.
By Riley Lewis

Riley Lewis is a recent graduate from the University of Georgia. She has a Bache … read more

Medically Reviewed By Dr. Mary Gay

Dr. Mary Gay is a Licensed Professional Counselor of GA in clinical practice sin … read more

Last Updated on August 30th, 2021
In this article
Cocaine Addiction Treatment
Our Approach to Cocaine Addiction Treatment
The best route for treating cocaine addiction is through a drug treatment program like the ones provided by The Summit Wellness Group. When you come to us for cocaine addiction, we are able to assess your individual situation and determine what interventions would be most helpful to stop the escalation of use and help you regain your life through sobriety.
The Summit Wellness Group in Georgia utilizes a variety of integrative talk therapies, holistic treatments, and medication management to give our clients the most comprehensive and hands-on treatment possible. Cocaine addiction is devastating to both the mind and body. The habits or behaviors developed during active addiction may also require treatment. Since the effects can be so damaging, our comprehensive array of techniques is effective in aiding our clients along their journey.
Our treatment programs are tailored specifically to the needs of each individual client. They can generally be broken down into three steps:
Though cocaine addiction does not produce any physical withdrawal symptoms, the negative effect that withdrawal has on the brain and normal thinking patterns can be very uncomfortable. Through one of the highly-rated detox centers we partner with, we are able to help you safely and effectively detox from the effects of cocaine. Medications may decrease the psychological symptoms of withdrawal. Our team of doctors and clinicians will supervise the whole process to ensure the most comfortable process possible.
Common symptoms we seek to minimize include:
Depression
Anhedonia (reduced ability to experience pleasure)
Extreme Fatigue
Sleep Disturbances
Intense Cravings
Clouded or Disorganized Thinking
Restlessness or Irritability
The first week of detox is the most difficult with regard to withdrawal. Through our guidance, we hope to make this process as easy as it can be.
Step #2 – Medication Management for Withdrawal Symptoms
Some medications that might be prescribed for the management of cocaine cravings during the detox process include:
Naltrexone: Used off-label to reduce cravings
Propranolol: Helps reduce anxiety
Tiagabine: Anticonvulsant medication that helps reduce cravings
Modafinil: Can treat the neurotransmitter deficiencies produced by cocaine addictions
Baclofen: A muscle relaxant that may reduce anxiety and cravings
Disulfiram: Commonly used for alcohol addiction, this medication may also help reduce cocaine cravings
Though medications are not a cure for cocaine addiction, they can help reduce the side effects produced by withdrawal. This helps to minimize the desire for cocaine to stop those symptoms. Our team may also prescribe antidepressants or anti-anxiety medications (non-benzodiazepine) as well as mood stabilizers, opioid antagonists, and sleep aids to combat some of the other mental side effects seen during cocaine withdrawal.
Once detox is complete and medication plans have been established, our clients meet with our treatment team to determine the best course of action moving forward. This often involves some form of cognitive-behavioral therapy, group therapy, or dialectical behavior therapy alongside different holistic techniques for the most well-rounded plan possible. Our goal is to connect our clients with a community of people they can lean on for help. We also want them to establish positive habits for coping with anxiety and possible other causes for their cocaine use in the first place.
Our treatment plans are based on individual needs and levels of commitment. A number of contributing factors play into the steps taken towards recovery. At the end of the day, however, our team is dedicated to providing a high level of care for all types of treatment. The combination of techniques used at The Summit Wellness Group synergizes to treat the person as a whole.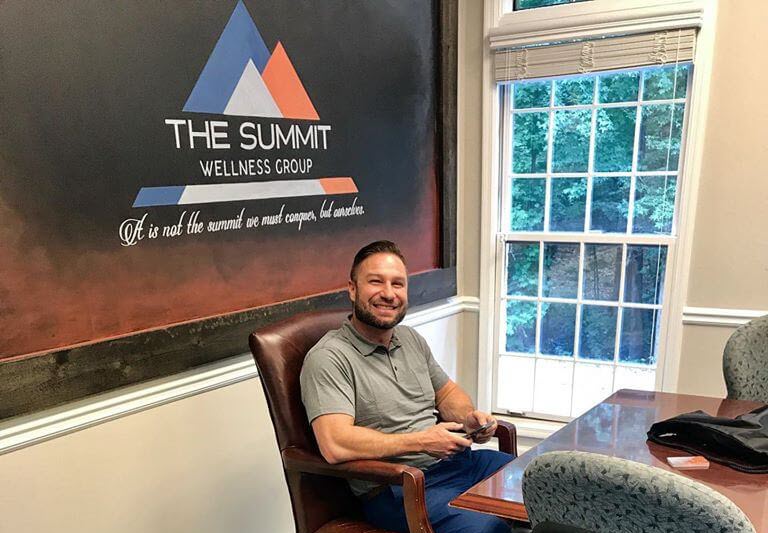 Why Choose Our Cocaine Rehab Program?
There are many, many different cocaine rehab programs all over the country. Why should someone choose the program provided by The Summit Wellness Group?
Because cocaine addiction can alter our client's way of thinking, it is important to surround them with a staff that is understanding and patient. For us, it's not about how quickly we can get patients in and out. Our goal is to ensure that each client feels heard and that they are surrounded by a team of people they can trust and rely on.
It's a business where you make a connection with somebody. And if you can make a really strong connection and follow through with that, that is so special. You're changing somebody's life.

Bob Schalit – CEO of The Summit Wellness Group
If you're still unsure about treatment and don't know where to go, take it from some of our clients whose lives have changed because of their time at The Summit Wellness Group. Our reviews are honest. We take pride in the fact that not only can we provide such an amazing program as evidenced by our client's successes but we also listen to our clients and improve our programs based on that feedback.
The holistic therapies that we use enlist the body itself as a member of the treatment team. Using the normal regenerative and healing abilities of the body can help shorten the time that negative symptoms persist. These therapies are also a great way of introducing positive habits to our clients which can help curb cravings after their treatment program has ended. We have seen firsthand that this helps our clients with long-term recovery.
Our holistic therapies are all practiced on location, making them accessible for our clients to enjoy. These programs include:
FAQ Cocaine Addiction Treatment
Some additional information and answers to frequently asked questions about cocaine treatment include:
How Do I Know If I Need Treatment For Cocaine Addiction?

Speaking with a licensed clinician about the possibility of dealing with cocaine addiction is a vital first step towards recovery

.

Because addiction is often accompanied by mental health conditions, treatment of all co-occurring disorders at the same time is necessary

.

If cocaine abuse has caused any sort of interference with your life, no matter how small it might seem, it is time to seek professional help

.

When Is It Time To Seek Help For A Loved One?

It's important to know what signs to look for if you are wondering whether someone you know

is addicted

to cocaine. Because it is an

extremely

addictive substance, it can also be difficult to quit. Continued use can lead to an overdose.

If you believe that a loved one might be struggling with cocaine addiction, we have resources available to help you determine the best course of action for getting them help

.

Reasons to Seek Treatment ASAP

Repeated, long-term use of cocaine can chang the structure and function of the brain and may cause severe negative health consequences

. Early intervention is the only way to ensure that the body and brain heal as much as they can.

The risks associated with cocaine addiction and deaths as a result of cocaine overdose are climbing in recent years

.

The sooner someone seeks help and treatment, the better their chances are of surviving this disease and making a full recovery

.
You Aren't Alone
We're Here To Help
We'd love the opportunity to help you during this overwhelming and difficult process. Our sincere passion is helping people recover so that they can live full, meaningful, and healthy lives.
Call us 24/7 at 770-299-1677 or fill out our contact form and a member of our admissions team will contact you shortly.