LGBTQ
LGBTQ individuals who enter treatment often have more severe substance use disorders than others in treatment. Though treatment has proven to be effective, only 7.4% of facilities offer specialized LGBTQ services.
Atlanta is home to a thriving LGBTQ community. Under Mayor Keisha Lance Bottoms, "ATL" is now being recognized as one of the most LGBTQ-friendly cities in America today. From rainbow crosswalks in Midtown to the boardrooms of major Atlanta companies, Atlanta is becoming one of the most inclusive and progressive cities when it comes to supporting this community. Further outside of Atlanta, more and more communities are taking action to recognize and serve the LGBTQ community. Savannah and Statesboro have recently passed LGBTQ non-discrimination ordinances that further protect our neighbors and fellow Georgians.
For more information on efforts to make Atlanta a more inclusive and LGBTQ-friendly city, visit Atlanta's LGBTQ Affairs website.
The progress we have made can often overshadow many of the struggles people in the LGBTQ community continue to face. In particular, these struggles include mental health and addiction.
SAMHSA has reported that the LGBTQ community suffers from mental illness and substance use disorder at disproportionate rates when compared to their "straight" peers. The causes of these problems in the community run very deep. No single article or guide can fully unearth the answers to these troubling questions.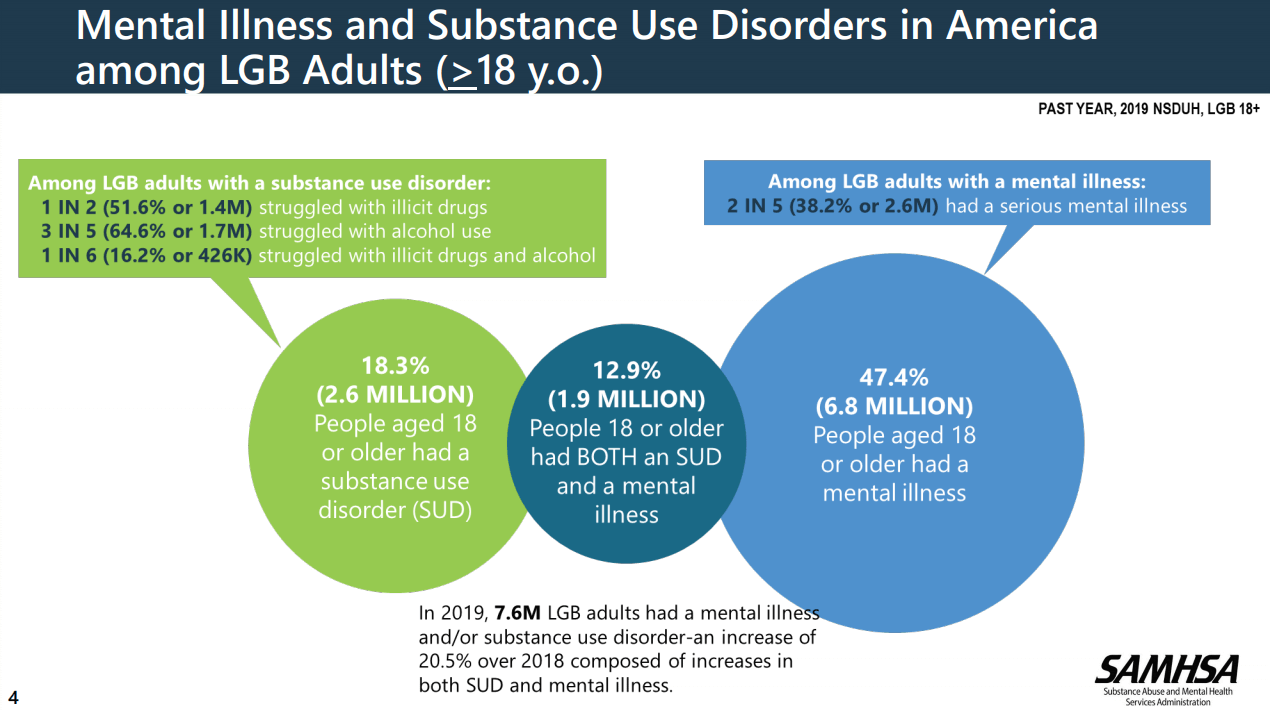 Thanks to leadership in both the public and private sectors, resources for LGBTQ people who are suffering from mental illness and substance use disorders are becoming more and more available.
Here are some of the best resources for addressing the mental health and substance use needs in the LGBT Community in Georgia:
LGBTQ Mental Health Resources
Mental wellbeing is essential. As we have seen since the COVID-19 pandemic began, more people than ever are seeking help for mental illness. Although it's difficult to see so many of our neighbors struggling, the silver lining is that people ARE looking for help, and help is available.
LGBTQ-Friendly Addiction Treatment
Substance use disorders can disrupt the lives of both the people who use and the people who love them. When someone has been abusing drugs or alcohol, it can become impossible for them to quit on their own. Help has to come from someone: a doctor, who can help ensure the toxins of drugs and alcohol are removed from the body; a family member or friend to hold a hand during the difficult times; a professional, who can explain and educate people about addiction in ways no one else can; a mentor, who has made it through recovery and is willing to share their experience to help others overcome addiction.
Some of the ways we can provide help to our clients at The Summit Wellness Group include:
The most important thing to remember is that you don't have to face these problems alone. While 2020 has been a year of isolation, there are many online and in-person resources available.
If you are in a crisis, please reach out to one of the services below. Don't hesitate. You're worth it!
You Aren't Alone
We're Here To Help
We'd love the opportunity to help you during this overwhelming and difficult process. The Summit Wellness Group is located in Georgia and all of your calls will be directed to one of our local staff members. Our sincere passion is helping people recover so that they can live full, meaningful and healthy lives.
Call us 24/7 at 770-299-1677. If we aren't the right fit for you then we'll utilize our expertise and connections within the treatment industry to assist you in finding the best provider for your specific needs. Alternatively you can fill out our contact form and a member of our staff will contact you shortly.