Parents
Being a parent is one of the most difficult jobs out there. There are so many different demands and responsibilities placed upon you. There is a deep irony in being a parent; it's the one job you can't do alone, but nobody can do it for you, either.
Because it is so frowned upon for parents to take part in heavy drinking or drug use, you may feel like you have to hide your struggles. And when mental illness is combined, it can seem hopeless. The Summit Wellness Group is here to provide you with the most effective treatment plans that fit into your schedule. Instead of having to choose between being a parent and getting sober, we say you can do it all.
Substance Abuse Among Parents
In almost 40% of cases where children were removed from the home, substance abuse in the parents was involved. It is also estimated that between 50-80% of child abuse or neglect cases also involved substance abuse.
There are many reasons why someone may choose to participate in excessive drinking or drug use. Having to raise a kid is hard enough. Add in the pressures many parents face to be the perfect example, the stress of working and parents, financial burdens, and so much more. Parents often use alcohol and drugs as a way of self-medicating or relaxation. It varies depending on the person, but regardless of the why, the resulting substance use is traumatizing and can destroy families.
Sometimes it can be hard to tell whether someone has a problem. It can be even more difficult to look at yourself and admit that the drinking or drug use has taken control. Substance abuse in parents affects the entire family, so it is important to know the signs.
Personality Changes
Financial Complications
Frequent Accidents
Self-Defeating Behaviors
Changes in Friends
Altered Mental State Consistent with Drugs or Alcohol
Withdrawal Symptoms
Skin Lesions or Track Marks
Drug Paraphernalia
Children Absent or Tardy From School Frequently
Family Members Making Excuses
Decreased Hygiene or Self-Care
How Does Substance Abuse Affect Kids?
Substance abuse in the home is always going to negatively affect children that are present. This can start during pregnancy if the mother is drinking or using drugs before the child is born. Significant cognitive delays and a variety of complications upon birth can arise:
Neonatal Abstinence Syndrome. This occurs when an infant suffers withdrawal from drugs or alcohol after birth. Because these substances pass through the placenta, the baby can actually become dependent.
Stillbirth
Sudden Infant Death Syndrome. This is characterized as a sudden, unexpected, and unexplained death of a baby that seems healthy upon birth. Mothers who drink or smoke have 12X the chance of SIDS occurring.
Birth Defects
Low Birth Weight
Children with parents who drink or abuse drugs often suffer from emotional, behavioral, or developmental delays. Children in these environments unfortunately often experience physical, sexual, or emotional abuse. These children are also twice as likely to develop substance use disorders as well. Some other consequences of parental substance abuse are:
Increased risk of developing some mental health condition such as depression, anxiety, or bipolar disorder.
Challenges in academic performance and functioning.
Poor emotional an behavioral outcomes.
Poor social adjustment.
Higher levels of low self-esteem.
Increased risk for conduct problems and aggression.
Increased risk for getting into trouble with the law.
The World Health Organization estimates that half of all mental health issues begin by the age of 14. That being said, the rates of teen mental health issues vary from country to country. The US has some of the highest rates out of any other country. One study found that among children ages 3 to 17:
7.1% had an anxiety disorder
3.2% suffered from depression
7.4% had a behavioral issue of some form
The rates of these mental health issues also increased with age. With the most common age of onset being 14 years old, these issues may not have arisen or been diagnosed till later into someone's teenage years.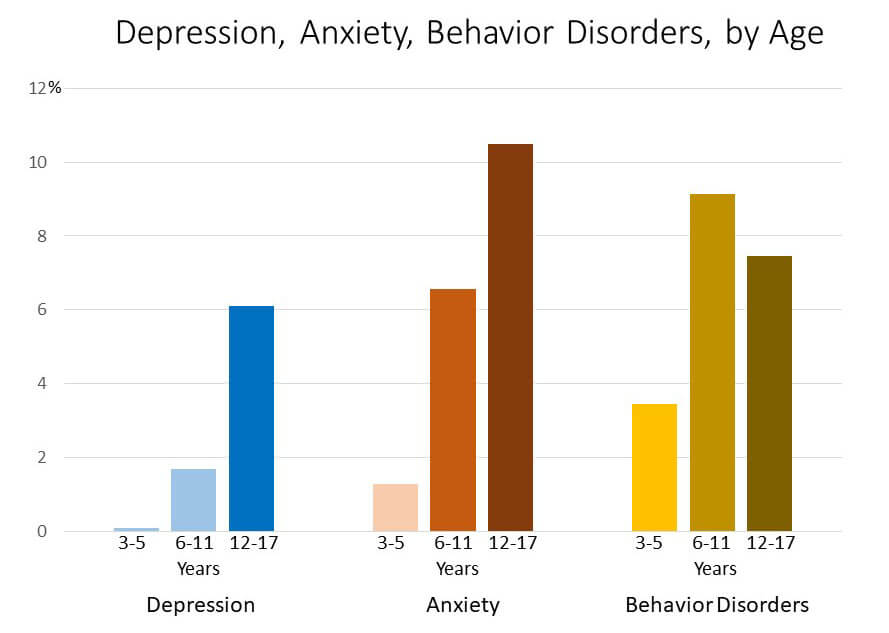 When is it Time to Seek Help?
The most effective way to protect children from these negative consequences is to seek help early. If you are pregnant, there are many different facilities and programs that have specialized treatment plans for you. Seeking help is critical to ensure that unborn baby is delivered with the least amount of risk.
If you feel that your drinking or drug use has gotten in the way of your parenting, it is time to find a treatment center. The earlier you seek help, the more successful the outcome. At the end of the day, as a parent, it is critical to do what is best for your child. Getting sober can help ensure that they do not suffer any more than they may already be suffering.
The parents need to seek help at the same time as the kids because they're not going to heal any faster. They're going to be a hindrance to the kids. I would encourage them to both seek professional help immediately and be open to suggestions and advice. And then actually take the advice.

Bob Schalit – CEO of The Summit Wellness Group
At The Summit Wellness Group, we understand that you have responsibilities. In some cases, you may not be able to commit your entire day to treatment, especially if you are a single parent or sole provider for the home. We don't think you should ever have to choose between being a parent and getting sober. Because of that, we have several different intensive outpatient options designed specifically for you.
We offer three different options that you can choose from to best fit your schedule.
Morning IOP: Monday-Friday from 9am-12pm. This time frame may work for stay at home parents while the children are at school. You have time before the program starts to drop the kids off at school or daycare, and then time after it ends to pick them up.
Evening IOP: Monday, Wednesday, Thursday from 6pm-9pm. Our evening program allows you to work during the day and take care of the kids before and after school.
At the end of the day, our clinicians and program directors want to help get you the care you need. We will work with you to ensure that our program fits into your busy schedule.
What to do if My Kid is Using Drugs?
Whether you have a substance use problem or not, no parent wants to see their child participate in drinking or drug use. Some of the signs to look out for include:
Evidence of drugs or paraphernalia
Sudden behavioral problems or decreasing grades
Isolation, depression, emotional disturbances
Sudden change in friend group or hangout spots
Lying
Physical changes and decrease in self-care/hygiene
Changes in mood, eating, or sleeping
If you feel that your child is partaking in drinking or drug use, the best thing to do is seek professional treatment. Give us a call and we can help find a program that is right for you and your child.
They think, I love my kid. But you're going to love them to death, literally, if you don't let go of that connection. When I see parents come in with the kid, I want to say, "Ma'am, do you mind just sitting over there. I'm going to talk to her privately. I just want to talk to her." Because so many times the parents are so sick, and it hurts the recovery process. It's hard though. You love them more than you love yourself, so it's hard to let a stranger take the reign.

Bob Schalit – CEO of The Summit Wellness Group
It is critical to seek treatment for both you and your child if substance abuse is an issue. The Summit Wellness Group has a variety of different programs and treatment options to help you in your time of need. And if our program isn't right for you, we work with some of the best detox and inpatient facilities to ensure that you have the care you deserve. We will work with you to determine the best plan of action. Give us a call today.
The Summit Wellness Group has two beautiful locations in Georgia, both of which are easily accessible from major interstate highways.
Our Atlanta rehab center is ideally situated near I-75/I-85 near downtown Atlanta
Our Roswell program is just north of the city of Atlanta off of Highway 9, near North Fulton Hospital.
The facilities provide a warm, inviting, and inspirational space, invoking a sense of calm and belonging for recovery to truly take hold.
You can reach us at either location, 24/7, at 770-299-1677.
You Aren't Alone
We're Here To Help
We'd love the opportunity to help you during this overwhelming and difficult process. The Summit Wellness Group is located in Georgia and all of your calls will be directed to one of our local staff members. Our sincere passion is helping people recover so that they can live full, meaningful, and healthy lives.
Call us 24/7 at 770-299-1677. If we aren't the right fit for you then we'll utilize our expertise and connections within the treatment industry to assist you in finding the best provider for your specific needs. Alternatively, you can fill out our contact form and a member of our staff will contact you shortly.