Veterans
Serving in the armed forces is something to be very proud of as it is a difficult and dangerous profession. Aside from the direct dangers of military service, there is an increased risk of suffering from addiction or mental illness after returning home. Around 11% of veterans struggle with a substance use disorder.
There are many reasons why someone who has served in the military may turn to alcohol or drugs. The trauma of dangerous situations can lead to PTSD, and it can be difficult adjusting to civilian life. Veterans may also feel increased pain from injuries. Regardless of the reasons why, all veterans deserve compassionate and effective care.
Substance Abuse Among Veterans
Issues with substance abuse occur among veterans at higher rates than in the general population. Among veterans, alcohol use disorder is the most common substance used. Additionally, different types of services are associated with differing rates of substance abuse. For example, one study found that exposure to combat seems to be a very large contributor to someone's chances of suffering from substance abuse.
For those who were exposed to combat for long periods or multiple times:
26.8% engaged in heavy drinking as opposed to 17% of non-combat veterans
54.8% engaged in binge drinking as opposed to 45% of non-combat veterans
Negative consequences of alcohol use occur more frequently in heavy drinkers. Binge drinkers experience worse and more frequent negative consequences than heavy drinkers. These consequences could take the form of legal complications, interpersonal issues, and financial problems.
How Common Is Mental Illness Among Veterans?
Mental illness has always been more common among veterans than the general population. Veterans of the recent wars in Iraq and Afghanistan have shown much higher rates of mental health issues, particularly PTSD, than in the preceding conflicts. Since 2002, 41% of all veterans from these conflicts have sought help for mental health issues through the VA. This is not counting veterans who may have sought help on their own or through VA-approved mental health providers.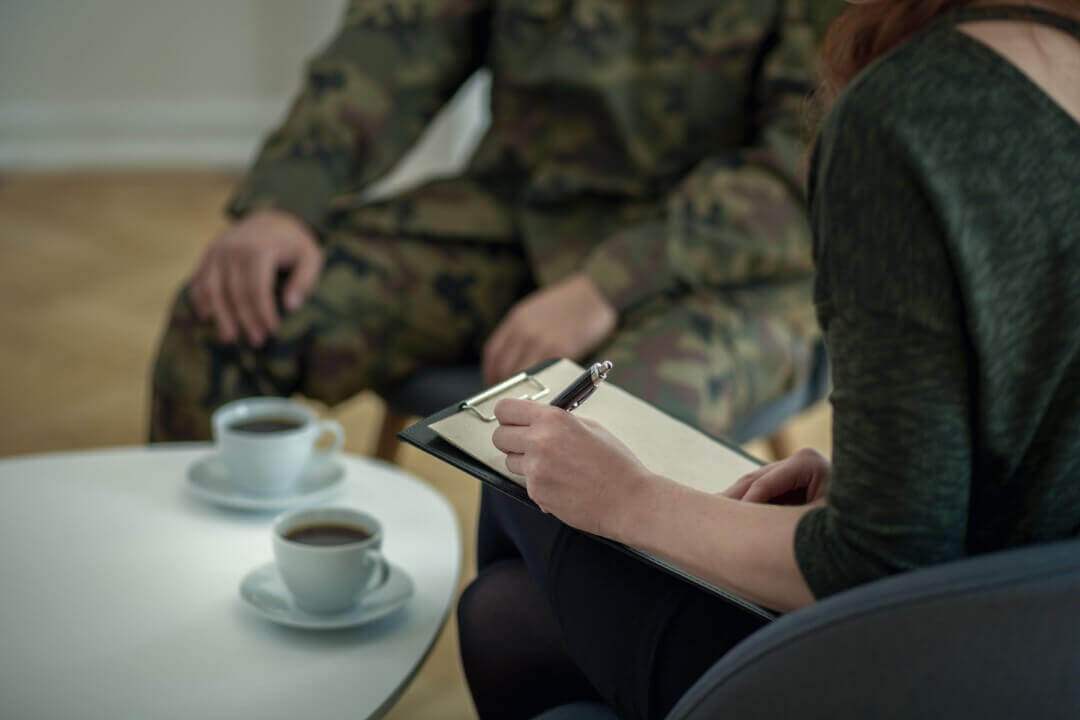 If a veteran is having problems with substance abuse, this can greatly reduce their chances of getting effective care for a co-occurring mental health problem. These conditions can complicate the other in negative ways. If a veteran needs help, their best chances at recovery depend on getting treatment for both conditions simultaneously.
Our program is intended to provide high-quality, comprehensive care for a variety of co-occurring mental health issues. Veterans deserve our care and support. Our drug and alcohol programs use the latest clinical therapies, most effective medications, and a variety of holistic methods to give our clients the best chances of achieving long-term sobriety.
Eye Movement Desensitization and Reprocessing (EMDR): We use this as a way of recognizing and processing trauma.
Mindfulness Meditation: This type of therapy can help Veterans decrease stress, process emotions, and learn healthier coping for crisis situations.
Medication Assistance: Oftentimes, medications can be used to decrease anxiety, depression, and possible panic attacks that may occur from PTSD.
Will Anyone Know That I'm In Treatment?
If you choose to tell someone that you enter treatment, that is your decision. There are multiple protections provided by the 42 CFR, Part 2, which was passed in 1975, that protect your privacy and confidentiality. This act ensures that no organization or person can disclose your substance abuse records, or the existence of such records, to anyone without your express written consent.
These protections were later expanded upon in the Health Insurance Portability and Accountability Act (HIPAA) which increased the fines and penalties to anyone who did disclose this information without written consent. Both of these acts mean that substance abuse treatment is considered a medical record. It is protected by doctor-patient confidentiality.
We have two facilities in Georgia:
Our rehab center in Roswell is located across the street from North Fulton Hospital, just a few minutes from GA-400.
Our Midtown Atlanta rehab is conveniently located by I-75/85 and is only 11 miles west of the VA Medical Center.
Both of our facilities provide a safe and healthy environment where the journey of recovery can begin. We give clients a supportive atmosphere and provide as many tools and guidance as possible to aid in their recovery.
You Aren't Alone
We're Here To Help
We'd love the opportunity to help you during this overwhelming and difficult process. The Summit Wellness Group is located in Georgia and all of your calls will be directed to one of our local staff members. Our sincere passion is helping people recover so that they can live full, meaningful, and healthy lives.
Call us 24/7 at 770-299-1677. If we aren't the right fit for you then we'll utilize our expertise and connections within the treatment industry to assist you in finding the best provider for your specific needs. Alternatively, you can fill out our contact form and a member of our staff will contact you shortly.