College Students
College can be a stressful time of self-discovery, especially as students transition to a new way of life. Many students are introduced to drugs and alcohol during this time which can present some dangers and pitfalls.
Substance Abuse Among College Students
The college experience can be an exhilarating one—new places, new faces, new challenges, and new demands. On many campuses across America, young people are exposed to the pressures of excelling, becoming part of new social circles, and "finding themselves." These pressures can often lead to experimenting with drugs and alcohol. While alcohol remains the most used drug on campus, Adderall, opioids, and marijuana are also common. For some students, their drug and alcohol use evolves beyond social or occasional use and spirals into addiction. Drug addiction for college students can be especially dangerous when isolated from close family and friends.
According to the Monitoring the Future Survey by the National Institute on Drug Abuse, the rates of drug abuse among students have been increasing. For example: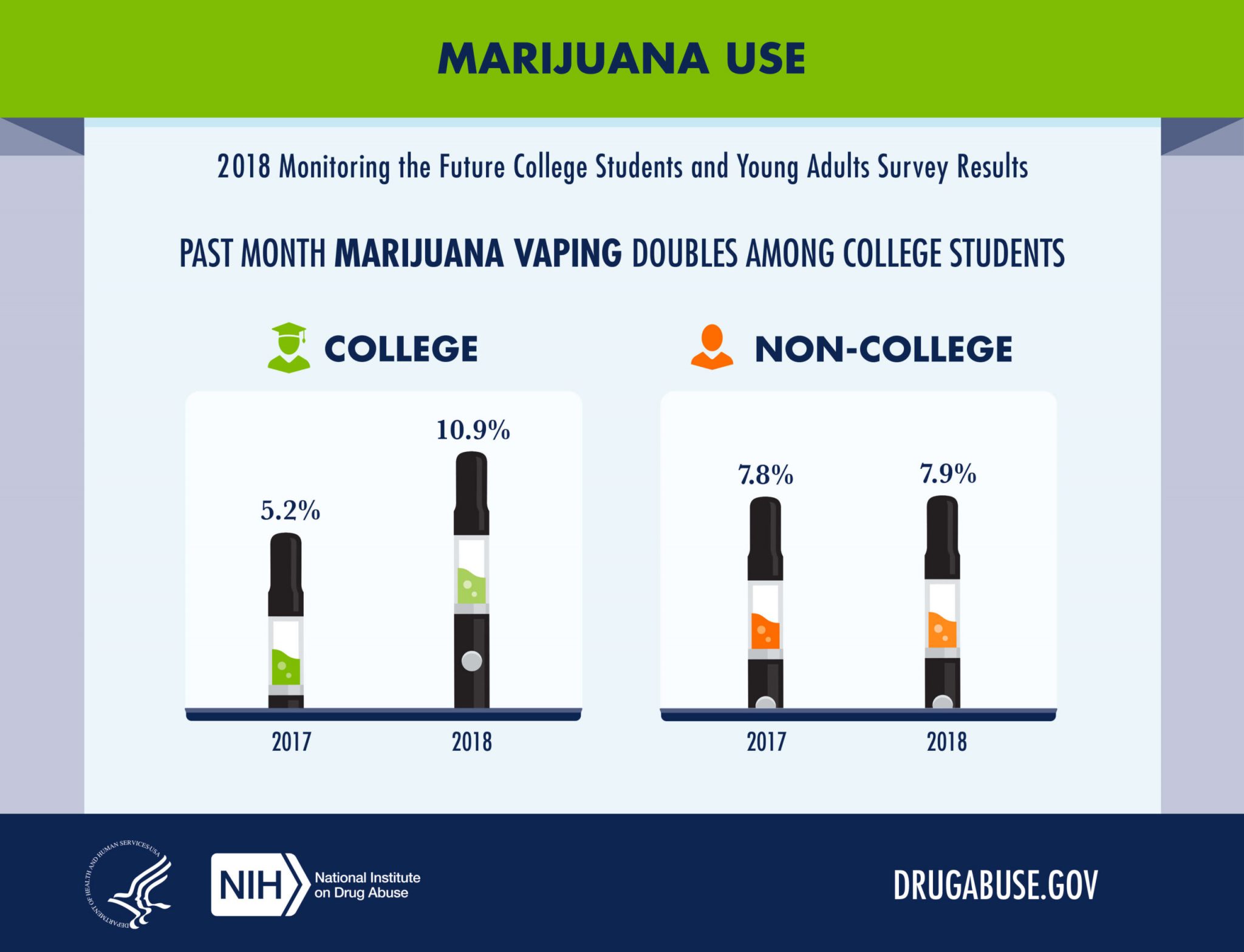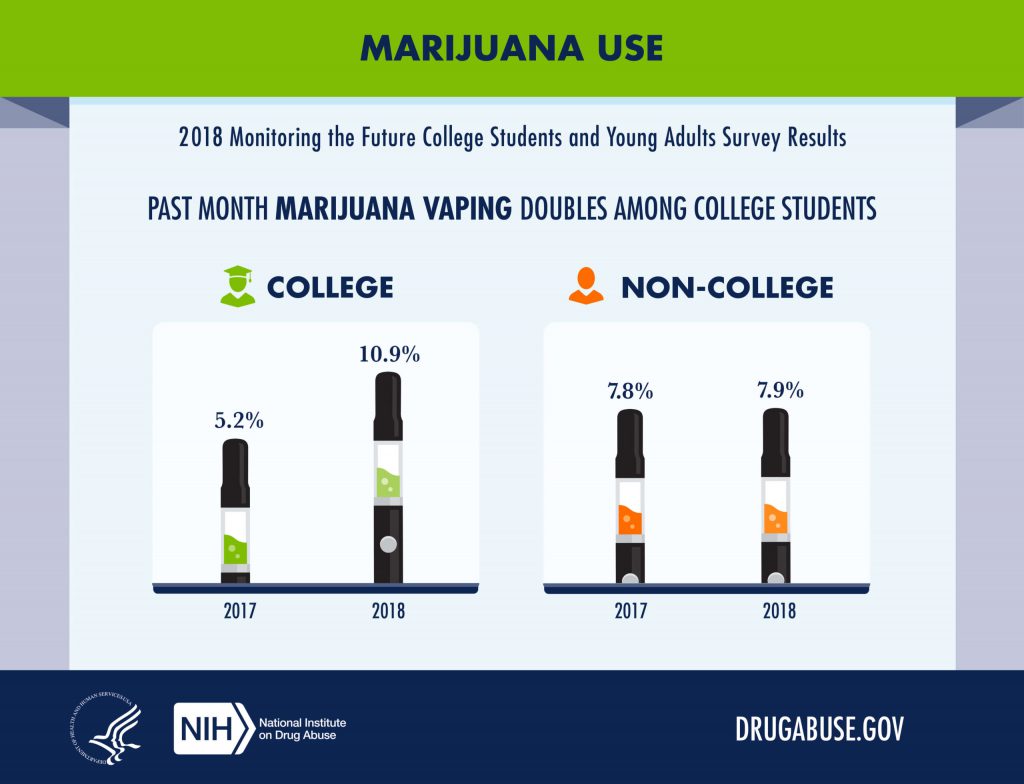 In addition to illegal drugs, prescription drug use among college students is increasing as well.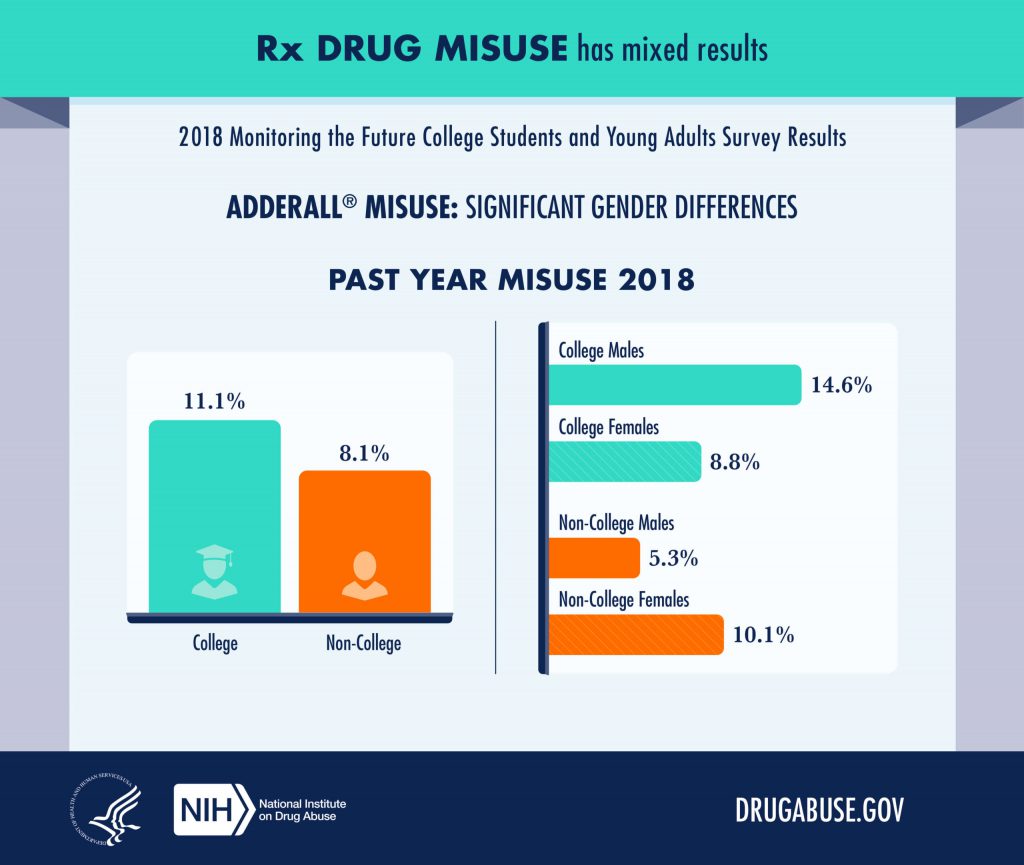 How Common Is Mental Illness Among College Students?
Mental health among college students is a very prevalent concern. According to a recent study, 58% of college students said they were "moderately," "very," or "extremely" worried about their mental health. While mental health can be a very broad topic, the APA has reported that anxiety is the most common type of mental illness experienced by college students. There is a dangerous intersection between mental illness and substance abuse. When these problems coincide, it creates a cyclical void that builds upon and feeds itself.
Our Program For College Students
Individualized programs need a comprehensive and diverse plan curated by a team of experts. The team at The Summit Wellness Group takes the time to understand and treat all aspects of the person—physically, mentally, and spiritually. Our team understands the pressures of college life and leaves no stone unturned. This requires a thorough diagnosis. Once this is complete, our team will work to prescribe medications if necessary. We will incorporate talk therapies and holistic methods such as yoga, meditation, and massage into each plan.
The clinical team is able to provide treatment for many of the most common forms of mental illness, including:
Anxiety
Depression
Bipolar disorder
PTSD and trauma
Borderline Personality Disorder
Obsessive-compulsive Disorder (OCD)
Our team has professional credentials and the experience necessary to treat co-occurring mental illness and substance use disorders.
Both of these locations provide a healing environment where we equip our clients with as many effective tools as possible. Our therapies guide them to use these tools to recover from drug or alcohol addiction.
Can I Lose My Scholarship?
Receiving higher education is a privilege that you have worked very hard for. You shouldn't have to choose between receiving treatment and continuing your education. Every school will have unique policies regarding current and past drug use, which may fall under various codes of conduct. The provider of your scholarship may also have guidelines that stipulate eligibility. It could be helpful to speak with a guidance counselor and conduct your own research to better understand what may fall under these guidelines. That said, the team at The Summit Wellness Group will work with you to coordinate a treatment plan and schedule that allows you to maintain the academic eligibility of your scholarship. Undergoing treatment for substance use disorders can be integrated into your schedule.
Will Anyone Know That I'm In a Recovery Program?
At The Summit Wellness Group, we understand and respect your desire for anonymity and privacy. Under the Health Insurance Portability and Accountability Act (HIPAA), patient medical records are confidential. This means that we will not disclose any of your information without your specified permission. The only way someone will know you are in rehab is if you tell them.
We do have two rehab centers in Georgia that are both accessible from anywhere in the state, as they are both near major highways. Each facility is discreet and offers the privacy many want when searching for treatment.
Our Roswell center is just across the street from Wellstar North Fulton Hospital in between Roswell and Alpharetta.
Our Atlanta rehab is just a few minutes west off of I-75/85 near downtown Atlanta.
At The Summit Wellness Group, we believe in meeting people at their point of need. There are programs that fall under a variety of timelines and intensities. No matter what your schedule is, we can work with you. We understand the need to balance your life and your recovery. Working together, we can create a plan that will address the most challenging aspects of your situation.
Find out more by calling us 24/7 at 770-299-1677.
You Aren't Alone
We're Here To Help
We'd love the opportunity to help you during this overwhelming and difficult process. The Summit Wellness Group is located in Georgia and all of your calls will be directed to one of our local staff members. Our sincere passion is helping people recover so that they can live full, meaningful and healthy lives.
Call us 24/7 at 770-299-1677. If we aren't the right fit for you then we'll utilize our expertise and connections within the treatment industry to assist you in finding the best provider for your specific needs. Alternatively you can fill out our contact form and a member of our staff will contact you shortly.