Oxycodone Addiction Treatment Program
Oxycodone is an opioid pain medication commonly prescribed to manage moderate to severe pain. It belongs to the opioid analgesic class of drugs, and its primary function is to combine specific receptors in the brain and spinal cord known as opioid receptors. By doing so, oxycodone alters the perception of pain and provides relief. It is a semi-synthetic opioid that is often abused. The Summit Wellness Group's oxycodone addiction treatment center in Atlanta, GA, recognizes the chemical dependency of oxycodone.
We are taking measures to provide various types of treatment to help everyone who desires it to overcome drug abuse.
Prevalence of Oxycodone in Pop Culture
Street names for oxycodone include Ox, Oxy, Roxy, and Perc. Pop culture has worked to perpetuate oxycodone as cool and acceptable to abuse.
Oxycodone and other opioids have been featured as the drug of choice in movies and television series. In the hit show Euphoria, Rue openly abuses opioids while smoking marijuana or mixing them with other drugs, such as Xanax.
Songs describe personal experiences and allude to a dependency on the drug. In Nicki Minaj's song "No Flex Zone," she says, Pop a perc' now I'm on lift-off. In "Mind Yo Business," 21 Savage says, Pop a perc, hit the cup.
Social media users have created countless memes, jokes, and other viral content, highlighting oxycodone and opioid use. Some of the most viral content includes photoshopped memes of oxy imprinted with various social media logos and other popular brands.
The sensitivity to opioid addiction is often downplayed or overlooked in mainstream references. However, the severity of oxycodone as a public health crisis is hard to ignore.
Close to 66% of U.S. adults take prescription drugs, including oxycodone. Of the people taking prescription opioids, nearly 20% admitted to abusing them. Between 2006 and 2016, approximately 7,000 opioid-related deaths were reported in Georgia.
Oxycodone was one of the leading drugs involved in these deaths. The need for our oxycodone detox and addiction center in Atlanta, GA, can help to get control over this public health crisis and save the lives of the state's residents.
If someone is taking oxycodone in excessive amounts, they may show some of the following signs and symptoms:
euphoria
feeling very relaxed
pain relief
sedation
lack of energy
shallow breathing
suppressed cough
Although physical signs of oxycodone may be challenging to differentiate from everyday behaviors, the symptoms of an overdose are apparent. Common symptoms of an oxycodone overdose include:
muscle weakness
confusion
clammy skin
extreme drowsiness
pinpoint pupils
dangerously shallow breaths
slow heart rate
fainting spell
coma or lack of consciousness
possibly death
Oxycodone Withdrawal Symptoms
As soon as 6 to 12 hours after the last dose of oxycodone, someone can start to experience withdrawal. Opioid withdrawal symptoms are extremely unpleasant and difficult to deal with alone.
Possible oxycodone withdrawal symptoms include:
aggression and anxiety
muscle pain
watery eyes
trouble sleeping
runny nose
excess sweating
yawning even when not tired
Late-onset oxycodone withdrawal symptoms can include:
stomach cramps
diarrhea
wide pupils
nausea and vomiting
gooseflesh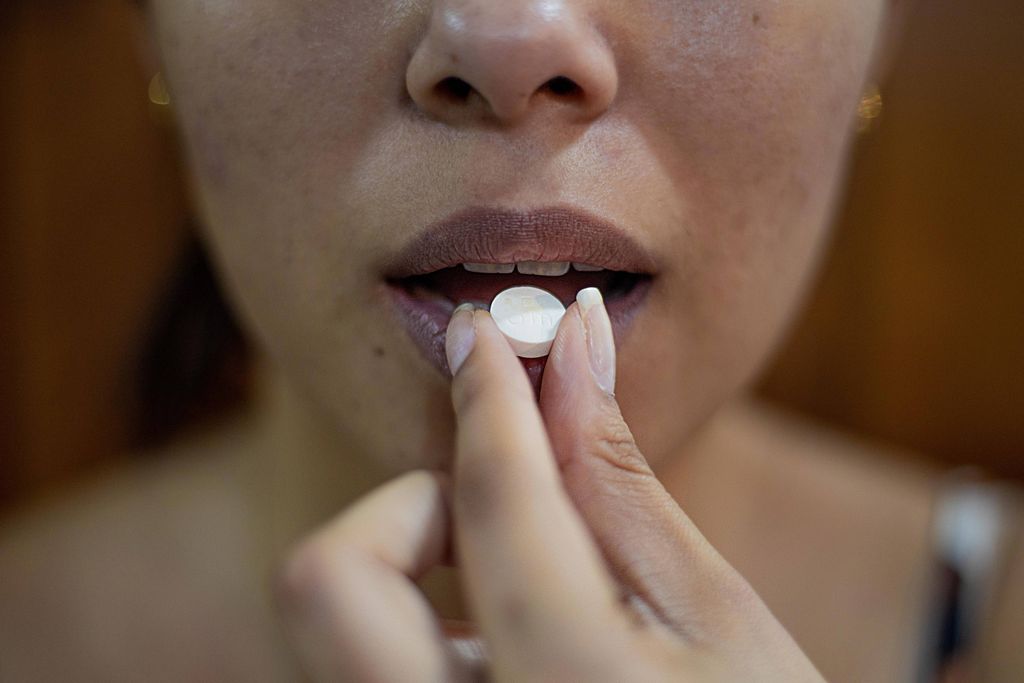 How The Summit Wellness Group Combats Oxycodone Withdrawal Symptoms
Medication-assisted treatment (MAT) medications are one proven effective way to help manage the symptoms of oxycodone detox and withdrawal. It is the safest way to taper off oxycodone use and prevent the body from being shocked by a lack of the drug.
Some MAT medications for oxycodone addiction include:
Clonidine: Helps to address the psychoactive symptoms of oxycodone detox, such as irritability, anger, and trouble deciding.
Suboxone: Relieves oxycodone withdrawal without the same "high" effect provided by oxycodone.
Naltrexone: Reduces opioid effects by blocking opioid receptors and staving off future cravings. However, if someone has oxycodone in their system, this medication can amplify any withdrawal symptoms they may be feeling.
If, at any point during the detox process, it becomes too difficult, consult your detox medical team right away. Most individuals with opioid use disorder must complete an inpatient or residential treatment program during and after detox. This continuation in treatment dramatically increases someone's chances of a successful recovery.
Everyone will detox in their way, depending on the severity and longevity of their substance abuse. Usually, someone going through an opioid withdrawal will experience a similar timeline to this:
On days 1 and 2, withdrawal symptoms begin. Oxycodone withdrawal happens quickly, usually within eight to 12 hours of the last dose. Symptoms at this time include watery eyes, muscle cramps, high levels of anxiety, and drug cravings.
On days 3 to 5, withdrawal symptoms are at their worst during this time. Individuals detoxing from oxy may experience vomiting, trembling, shaking, and some psychological behaviors.
On days 6 and 7, most physical symptoms will drop in intensity. But, psychological symptoms such as severe anxiety and depression may occur.
After the first week without oxycodone, individuals are most likely to relapse at this time, although most physical symptoms have gone away at this point. Post-acute withdrawal syndrome (PAWS) will likely occur for weeks to years, depending on the situation.
Our Oxycodone Medical Detox Program
Every patient experiences withdrawal differently in terms of the types of symptoms as well as the severity and duration of them. Before determining if going to an oxy-detox rehab center is the right course of action for our clients, we discuss your medical history and current level of wellness.
As a rule, individuals undergoing detox without medical assistance and supervision may face dangerous or fatal consequences. You should pursue medical detox as quickly as possible.
Additionally, any clients whose withdrawal produces pain or discomfort from the symptoms of oxycodone addiction that significantly diminishes their ability to cope with daily living demands should also consider medical detox. Some clients require medication management, which we can maintain at our rehab center.
Why Should You Consider The Summit Wellness Group?
There is a large number of oxycodone addiction treatment programs around the state. No two centers are the same in the approaches and programs offered and the individualized attention you will receive. The Summit Wellness Group takes the necessary measures to ensure our service is unparalleled.
We currently have two locations in Georgia, Atlanta and Roswell. Both centers focus on your recovery journey. We want you to feel welcome and relaxed when you enter the door. Combining touches of home with modern design, each detail was handpicked to enhance a peaceful and positive recovery process.
Our team of professionals understands what you feel when you come to us. We want to do everything possible to ensure you leave our facilities with the best care possible. We work with you daily to ensure your needs are met. We pride ourselves on our commitment to your recovery.
We take recovery seriously, and our reviews prove that. Not only do we work to improve our treatment plans and practices based on feedback continuously, but we also value the voices of the people who walk through our doors and expect us to help them.
Our Oxycodone Addiction Treatment Programs
A safe and supportive environment for oxycodone addiction treatment is the best way to begin recovery. Our programs address the physical effects of drug use, dependency, and mental health disorders that could be co-occurring with addiction. Addressing each of these areas sets the stage for long-term sobriety.
Intensive Outpatient Program
Intensive outpatient programs (IOP) are effective methods of treating addiction on an outpatient basis. We provide several different IOP schedules to best accommodate our clients. Clients will attend this addiction treatment track 3 to 5 days a week for 3 hours. We offer morning, afternoon, and evening sessions to accommodate various schedules.
Our program includes a variety of evidence-based therapies provided in individual, family, and group sessions. Clients may also participate in holistic options such as chiropractic care, meditation, yoga, or adventure therapy.
IOP is an option for people needing a safe, secure, structured environment to complete their detox treatment. Not everyone with a substance use disorder has this available to them outside of treatment providers.
We ensure that even clients with fewer hours with us still receive the highest care possible.
Partial Hospitalization Program
Partial hospitalization programs (PHP) are perfect for those seeking treatment for the first time who need help but cannot commit to inpatient treatment. This enables clients to receive a very high level of care while still being able to return home each night.
While our entire program is heavily focused on individualized care, it is generally the best fit for clients transitioning from a higher level of care, their first time in treatment, or needing additional support before stepping down from their current program.
Sober Living Program
Our sober living program is a reference for any shared housing environment in which each resident is committed to abstaining from alcohol, oxy, and other drugs. We find that sober living homes are effective for our clients in recovery as a logical next step.
Sober living typically follows a release from an inpatient program. Sober living might be a dwelling cohabited by friends or acquaintances in recovery or be part of a highly structured program overseen by our treatment facility. Our facility will provide aftercare support as well as other ongoing treatment.
Our Oxycodone Addiction Treatment Services
Evidence-based treatment options are the most useful for oxycodone addiction treatment. These treatments help individuals struggling with severe substance abuse and mental health challenges.
One of our mental health professionals will guide those who elect evidence-based treatment. This allows our therapists to integrate research and clinical knowledge into treatment methods. These treatment services are provided through entering an oxycodone addiction treatment program.
Cognitive Behavioral Therapy (CBT) effectively treats individuals with oxycodone addiction. CBT focuses on problem-solving and changing negative thought patterns. In addition, it is a goal-oriented approach. This sets our clients up for success because they work with their therapists to set realistic benchmarks for recovery.
Dialectical Behavioral Therapy (DBT) is a standard psychological service for treating oxycodone addiction. DBT helps clients who struggle with managing their emotions and relationships and individuals considering self-harm. This treatment is ideal for individuals with emotion regulation, impulse control, and social difficulties.
Family therapy helps break the family cycle of addiction. Because learned behaviors are shared within a family unit, discussing substance abuse together benefits everyone. With a therapist, the family members and client will work to understand how the family dynamics play a role in addiction.
Group therapy involves two or more individuals working in a session together with a therapist. Having a support system of peers is essential to recovery. During group therapy, each participant takes turns expressing their struggles, feelings, experiences, and goals to maintain long-term recovery. Our therapists tailor the sessions to specific topics that benefit each person.
Holistic therapies are an alternative treatment service that focuses on the whole person, not just specific addiction-related symptoms. Our therapists consider our clients' physical, emotional, mental, and spiritual well-being, allowing them to achieve balance and develop coping skills. We use several holistic therapy services, including yoga, meditation, chiropractic care, outdoor activities, art, and fitness.
Get the Oxycodone Addiction Treatment You Deserve
Our admissions counselors are ready to guide you or a loved one through the process. The call is free and confidential. Our compassionate staff will ask you questions to understand your oxycodone addiction better. Give us a call at 770-609-1899 or email contactus@thesummitwellnessgroup.com.
You Aren't Alone
We're Here To Help
We'd love the opportunity to help you during this overwhelming and difficult process. Our sincere passion is helping people recover so that they can live full, meaningful, and healthy lives.
Call us 24/7 at 770-299-1677 or fill out our contact form and a member of our admissions team will contact you shortly.