12-Step Facilitation Groups - Atlanta, GA
There's a high chance you've heard of 12-step programs. Two-thirds of treatment centers in the U.S. use this form of behavioral therapy to help treat substance use disorders. 12-step facilitation therapy is a type of evidence-based recovery program. It provides guiding principles to recover from addictive, compulsive, or other behavior challenges. The steps are a path for personal growth.
They center around connecting with others through fellowship. This type of therapy promotes long-term abstinence and community. Our recovery center in Atlanta, GA, uses the 12-steps as part of our well-rounded evidence-based approach.
12-Step Facilitation Groups
The steps are a path for personal growth. They center around connecting with others through fellowship. This type of therapy promotes long-term abstinence and community. Our recovery center in Atlanta, GA, uses the 12 steps as part of our well-rounded evidence-based approach.
Are the 12-Steps and AA the Same?
The short answer is no. These two groups are associated but are not the same. The semi-structured 12-step program was designed for individuals struggling with alcohol use disorder (AUD) to achieve lasting recovery. The founders of Alcoholics Anonymous (AA) developed the 12-steps in 1935. These steps are different from the Alcoholics Anonymous book, otherwise known as "The Big Book" in the program. AA uses the 12-step model, but other programs may also use the 12-step format without being AA-affiliated.
The largest number of 12-step members are in addiction recovery. But most 12-step programs are about other issues. The program's worldwide success continues with a range of meetings in operation. Applying the steps to problems gives insights, strength, and hope to overcome obstacles. The most well-known groups that use it include AA, Narcotics Anonymous (NA), and Al-Anon. Meetings can also range from food addiction (FA), workaholics (WA), and codependency (CoDa).
It's not only working the steps that have kept meetings going strong. It's the community-based support. 12-step groups are a forum with people who get what you're dealing with and are able to connect with you in ways that others cannot. Addiction is isolating, but participating in the steps can offer a welcome relief to most members.
Getting involved in 12-step meetings is beneficial while in a treatment program. You gain an understanding of the accountability it provides. Once you've started something, such as rehab, it's easier to stick with it because of the commitment made through the community.
You're also prepared while in rehab to engage in outside support meetings and seek out a sponsor to continue life clean and sober. A sponsor is a person who has sustained sobriety and works a solid program. They guide you in the program, answer questions, work the 12 steps with you, and provide a source of accountability.
Though certain steps can take longer than others, sticking with the steps can shift an individual's recovery experience to the positive extremes.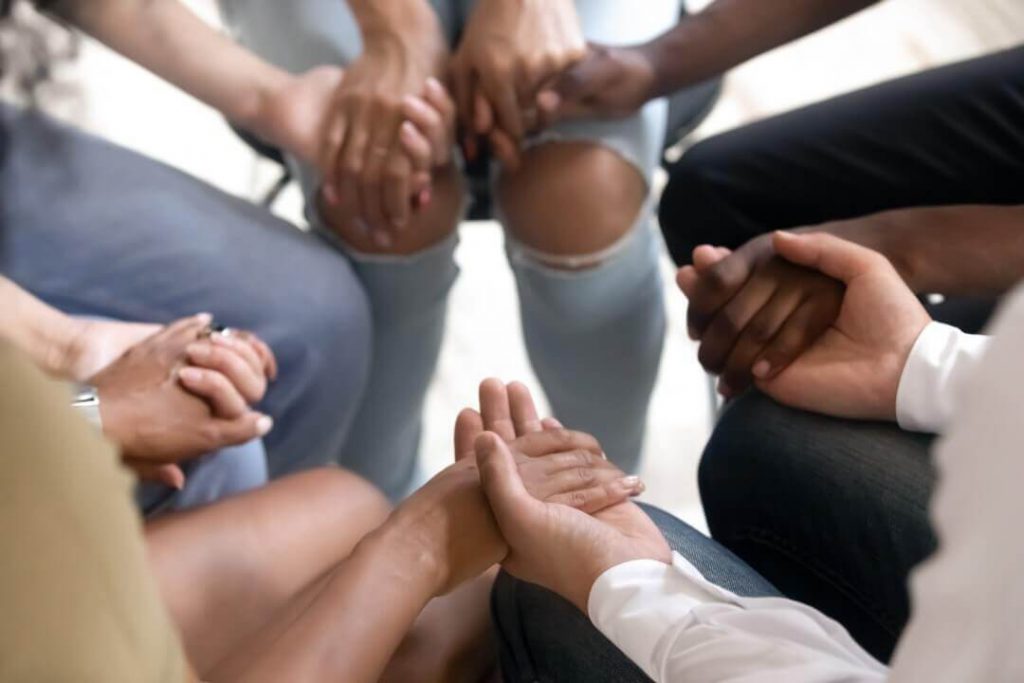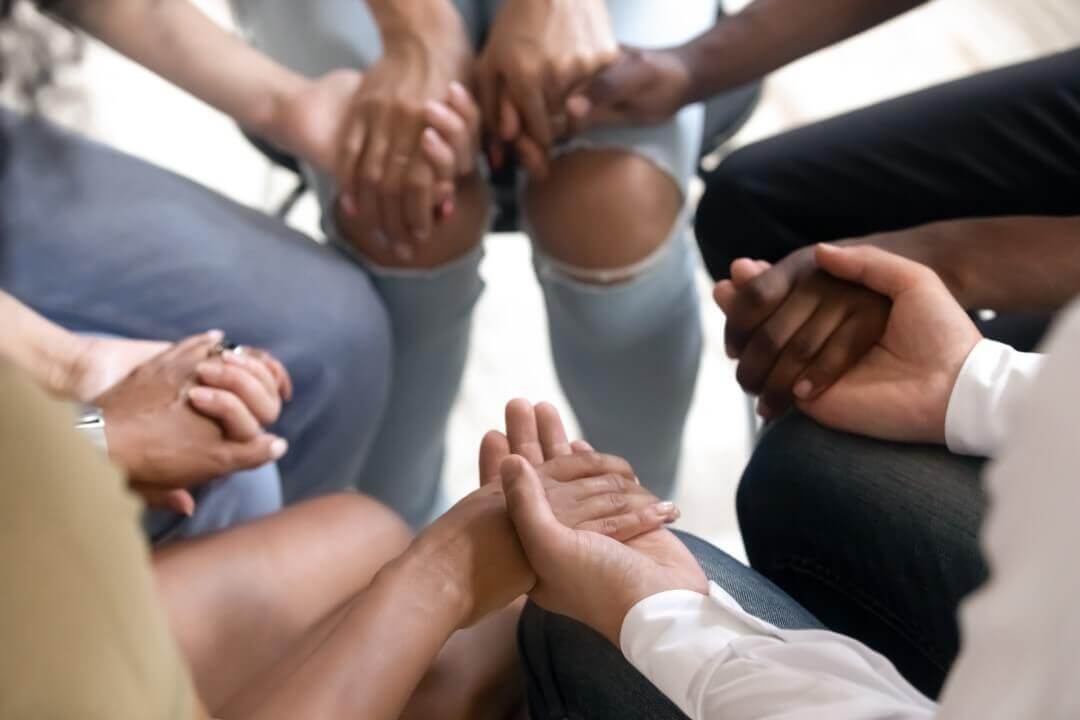 12-Step Facilitation in Atlanta, GA
Our mental health and substance abuse treatment center in Atlanta embraces 12-step facilitation groups (TSF) as a valuable tool for sustained recovery. We incorporate this as part of our robust, customizable treatment plans.
Mutual help, a self-help group, peer support, and mutual aid are internal operations. Members self-operate. Members communicate within their group to provide social support. They meet and share recovery experiences and skills. These gatherings have restored hope for thousands of individuals. It doesn't matter if you're facing one addiction or co-occurring disorders. The cycle of coping by using substances to self-medicate can feel hopeless to escape. The outside world is ready with triggers that tempt you to use. Like any aspect of recovery, starting with detox – there's no reason to go it alone.
The Summit Wellness Group uses the top holistic and evidence-based treatments to support fulfilling recovery. Alongside those services, our clients can participate in our group therapy model that utilizes 12-step facilitation as its core method of addressing addiction.
What are 12-Step Facilitation Groups?
12-step facilitation groups help individuals engage more deeply in their recovery journey. This evidence-based practice (EBP) promotes using the steps as a tool for community connection. You work through hurdles, make amends, improve your chances to stay clean and take other actions that close the gap of isolation with a group of people who understand firsthand what you're going through.
TSF aims to link individuals who want to stay clean with the steps. It encourages others to try out 12-step groups and answer their questions. If the 12 steps strike a chord with the individual, they become involved in the group. This process continues with the guiding principles and the community that comes with it.
TSF originated from the abstinence model of treatment. This is called the Minnesota Model. TSF works best as part of a multidisciplinary treatment program like the results-driven plans our recovery center is known for.
What are 12-Step Facilitation Groups?
The TSF model can also work well independently or as part of a well-rounded care plan.
During the 1990s, several studies elevated awareness of TSF as a treatment.
There's compelling proof supporting TSF interventions. Alcohol use disorder in particular, has shown positive outcomes equal to or better than other active treatments. It holds its own with therapies like motivational interviewing and cognitive behavioral therapy.
This therapy is closely tied to improving rates of ongoing abstinence. This includes long-term sobriety or not showing signs for 12 months.
An eight-year study called Project MATCH took a deep dive into the effectiveness of TSF. It compared the steps to other interventions. The multi-site study followed treatment outcomes for years. The extensive study showed consistent participation in a 12-step regime increases your chances of staying sober for at least a year after treatment by six times.
This compares to those who don't make meetings a part of their recovery routine. These individuals are also five times more likely to remain sober after three years post-treatment.
12-step facilitation matches positive results in the short term with other first-line interventions. In the long term, this therapy can outperform its peers.
Benefits of 12-Step Facilitation
Aside from the above-stated benefits, 12-step treatment methods have proven beneficial for most clients in the long run. Some of the other advantages include:
Assists in attaining and maintaining recovery over the long term
Connects you with a community of peers who have similar experiences
Share practical advice and strategies for staying sober based on others' life experiences
Provides a reliable and accepting safe space for open conversations and active listening
Benefits of 12-Step Meetings After Treatment
Restoration is a lifelong experience. Lots of people get anxious about forming new relationships with others in recovery. They want to find people they can relate to and rely on for support.
A 12-step facilitation group assists individuals in seeking 12-step support. It's an opportunity to learn the basics of a 12-step foundation. It helps establish lifelong connections for their recovery.
When sobriety gets tough, the value of meetings after treatment is easy to see:
Support and community that you can't find anywhere else
A stable routine through following a meeting schedule and working with your sponsor
Accountability to follow through on commitments and take personal ownership of recovery
Availability of meetings can vary by location but are widely available in general
Guidance from a sponsor is one-of-a-kind support that opens your eyes to living life in recovery
The Principles of 12-Step Facilitation
12-step facilitation adjusts unhealthy attitudes and actions. If you start attending 12-step meetings, core elements guide the therapy. These apply whether you're new or more involved at a later point in community outreach.
These three principles are:
Acceptance
Surrender
Active involvement
These principles build up your chances to live a meaningful recovery journey. Finding issues with the wording and principles of the steps is common. It doesn't have to deter you from the benefits it also gives you.
Is a Higher Power Necessary?
This part of the steps can be a struggle if you're non-religious. Believing in a power greater than yourself can create miles of conflict. How can individuals accept and trust something they don't believe in from the start?
This is a very common dilemma when working on the steps. The program might say it doesn't matter, but you still feel like it does. It's also very common for individuals to reap the benefits of TSF without compromising on beliefs they feel strongly about.
Why are you choosing recovery? Reflecting on these reasons should stay at the front of your decisions.
You work a program that works for you. Forces beyond ourselves, like nature, music, or love can be reasons.
Many people become more in tune with themselves while working the program. The steps promote this by not having strict and unforgiving beliefs to follow. You think for yourself. A deeper spiritual connection is worth celebrating. It doesn't mean you lost your freedom.
Does this resonate with you? 12-step facilitation therapy has the potential to be of real help. You can take these guidelines with you wherever you go. Connecting with others is a huge relapse prevention strategy.
Make 12-Step Facilitation Part of Your Recovery
If you're considering recovery, there's a lot to think about. We're committed to helping you navigate this new chapter with confidence. Treatment offers options like TSF to make things a lot less overwhelming. Therapies like TSF deliver a variety of advantages to maintain your recovery.
Contact our team at The Summit Wellness Group in Atlanta, GA. We're here to answer your questions about our therapy and recovery services. Reach out now by calling (770) 830-3119, or you can message us at contactus@thesummitwellnessgroup.com
You Aren't Alone
We're Here To Help
We'd love the opportunity to help you during this overwhelming and difficult process. Our sincere passion is helping people recover so that they can live full, meaningful, and healthy lives.
Call us 24/7 at 770-299-1677 or fill out our contact form and a member of our admissions team will contact you shortly.