Medication-Assisted Therapy
Finding footing in recovery can feel more like taking your first steps. But it doesn't have to. Medication-assisted treatment is evidence-based for opioid dependence and alcohol use disorder (AUD). The Summit Wellness Group's medication-assisted treatment program in Atlanta, Georgia, puts someone in your corner.
Recovery isn't a battle you should face alone. Getting sober takes courage and support to avoid relapse.
What is Medication Assisted Therapy?
A medication assisted treatment program (MAT) combines prescription medications and counseling to help our clients continue their recovery. MAT programs effectively overcome addiction and drug use while building a recovering lifestyle. When clients come to us suffering from opioid addiction and alcohol abuse, MAT can help to ease cravings and reduce the risk of relapsing after detoxification.
By using opioid blockers, we reduce the risk of relapsing in our clients even more.
Antidepressants are used to control the nerves that send messages throughout the body. They also regulate serotonin, which stabilizes mood.

Mood stabilizers control manic or hypomanic episodes. Examples of mood stabilizers include Liithobid, Depakene, Depakote, Tegretol, Equetro, and Lamictal.

Anti-anxiety medications such as benzodiazepines help with anxiety and improve sleep. These are used on a short-term basis.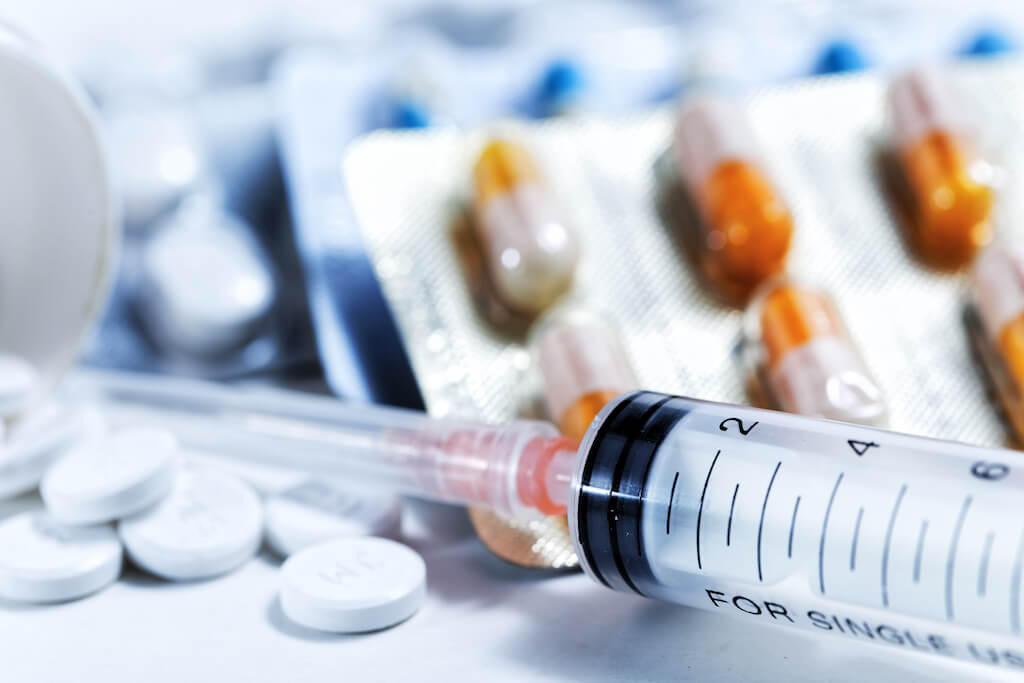 Medication-assisted treatment (MAT) is an evidence-based approach that uses medications approved by the Food and Drug Administration (FDA). MAT doesn't focus solely on the FDA-approved medicines used.
The Summit Wellness Group integrates MAT with counseling and behavioral therapies. The result is a comprehensive approach to addiction treatment, individualized just for you.
Since the COVID-19 pandemic, opioid use disorders and people overdosing have increased. In 2019, there were 49,000 reported opioid-related overdoses in the U.S.
Opioids are drugs designed to relieve pain when used for their intended purposes. Some of the common opioids are oxycodone, hydrocodone, and fentanyl. Heroin is an illegal opioid.
The following medications are what we use for opioid addiction.
Naltrexone is an opioid antagonist. We also have the once-a-month injectable Vivitrol as an option. It works by binding the opioid receptors in the brain. By taking Naltrexone, individuals will find a noticeable change in cravings. The euphoric effects of opioids begin to decrease as well.
Buprenorphine is a partial opioid agonist. This medication activates the opioid receptors less than full agonists like heroin or oxycodone. We use Buprenorphine to help our clients manage withdrawal symptoms and cravings. This approach reduces the risk of overdose.
Methadone is a full opioid agonist. Methadone is similar to Buprenorphine in that it helps to reduce withdrawal symptoms and cravings. It is characteristic of Naltrexone in that it doesn't produce the intense euphoria associated with other opioids.
MAT for Alcohol Addiction
Acamprosate, Disulfiram, and Naltrexone are combined with counseling, therapy, and support services. We use the three options for alcohol addiction treatment. The choice of medication depends on factors such as the individual's medical history, preferences, and treatment goals.
Acamprosate, also known by the brand name Campral, stabilizes the brain's chemical balance, which is disrupted by chronic alcohol consumption. Acamprosate is particularly effective in reducing cravings for alcohol and may be helpful for individuals seeking addiction recovery from alcohol.
Disulfiram, sold under the brand name Antabuse, helps the body to establish a barrier effect against drinking alcohol. When an individual takes Disulfiram and then consumes alcohol, the body reacts by experiencing nausea, vomiting, flushing, and headache. The idea of the side effects discourages drinking while on the medication.
Naltrexone is also used for alcohol addiction. Naltrexone blocks the pleasant effects of alcohol while reducing cravings. Naltrexone can help individuals reduce their alcohol consumption or maintain abstinence.
What Programs Work Well with MAT?
Treatment is the first step in changing the behaviors associated with a disruptive life. Individuals need medical support from professionals who understand their specific concerns.
The treatment team can develop individualized goals. Working collaboratively with each individual, our treatment facilities can develop a plan beyond a standard model and create a personable and actionable set of guidelines instead.
Intensive Outpatient Program (IOP)
A supportive home environment can make all the difference in recovery from drug addiction. This program suits individuals who have support at home and do not need around-the-clock care from a mental health or substance abuse professional. This outpatient treatment option is typically designed for individuals moving out of PHP. Most IOPs meet 3-4 days weekly for 3-5 hours.
Partial Hospitalization Program (PHP)
A partial hospitalization program (PHP) benefits individuals with drug addiction. The program is ideal for patients needing more than outpatient care without 24/7 inpatient treatment. PHPs help individuals by providing a safe and structured environment with access to medical supervision, including individual therapy, therapy with family members, and one-on-one and group therapy with individuals with the same substance use disorder.
Individuals can access care during the day and return home in the evenings to continue their routines. They can practice new behaviors, develop coping skills, and build social connections in a supportive community.
Sober Living Program
Sober living is a home away from home. Our clients have a supportive community and can start their new life without substance use. Residents in sober-living homes commit to abstaining from substances while participating in an outpatient program, leading to relapse prevention.
Consider a sober living home as a support system as you practice new skills, gain unique insight, and shape your new life in recovery. Our clients do this with others facing the same challenges and undergoing substance abuse treatment. We have adolescents, young adults, and older adults in our sober living homes.
Why Choose The Summit Wellness Group
Comprehensive care
Our treatment plans focus on the roles of detox, therapy, and holistic treatments. Medication-assisted treatment aligns with these by pinpointing real-world challenges and daily living skills. This immersive approach makes sure you are well-equipped to face life outside rehab.
Continuity of care
After your time at The Summit Wellness Group is complete, the next step awaits. Individuals often face a daunting transition. Our treatment facility provides a bridge to get there through aftercare services. This guarantees there is not a break in support and guidance. Moving from a controlled environment to the complexities of everyday life is a crucial transition for the recovery process.
Payment options
The cost of treatment can decide when and where to receive the healthcare you need. We accept most health insurance plans and private options as well. If paying out of pocket is the route you need to take, we help you navigate payment plans.
Start Your MAT Program Today
If you're ready to reclaim your life, contact our team. The Summit Wellness Group has behavioral health options, including medication-assisted treatment to help you reach your or a loved one's break from drug addiction.
Contact us anytime to learn how our medication-assisted treatment program can make your recovery goals a reality. Call us at 770-299-1677 or email us at contactus@thesummitwellnessgroup.com.
You Aren't Alone
We're Here To Help
We'd love the opportunity to help you during this overwhelming and difficult process. Our sincere passion is helping people recover so that they can live full, meaningful, and healthy lives.
Call us 24/7 at 770-299-1677 or fill out our contact form and a member of our admissions team will contact you shortly.