Anxiety Treatment
The Summit Wellness Group is one of the leading anxiety treatment centers in the southeast. We specialize in treating dual diagnosis anxiety. Every facet of our program and our facility is designed to provide a calm and soothing environment where true healing can occur.
Co-Occurring Substance Abuse and Anxiety
There is a high co-occurrence between anxiety disorders and substance use disorders. Generalized anxiety, in particular, is most commonly associated with using drugs or alcohol to self-medicate. In adolescents, the presence of generalized anxiety disorder is also associated with a more rapid progression from first alcohol use to full-blown alcohol dependence. These two distinct mental health conditions can exacerbate each other. In the absence of treatment, the chances of recovery are very small.
What Does Anxiety Feel Like?
Imagine a rapid-fire sequence of thoughts in your head, ranging from reasonable worries and fears to impractical and improbable scenarios that bombard you every waking moment. There's a constant pit in your stomach. Every time you try to sleep, there's that voice in your head reminding you of all the things that could go wrong during your same drive to work that you've made for the past seven years. The constant worrying and panic can lead to a variety of other symptoms, making each day a struggle to get through, let alone even try to enjoy. Those symptoms vary from mild to moderate to severe and can become debilitating to a person who has no idea how to control them.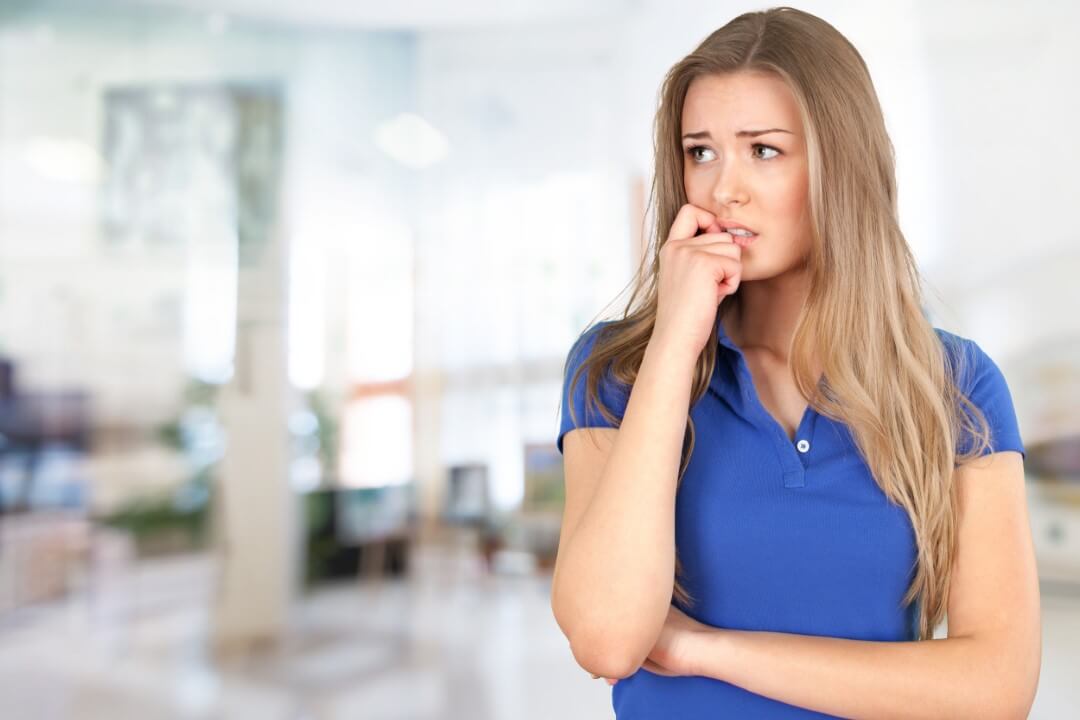 Do I Need an Anxiety Treatment Center?
Severe levels of anxiety can be debilitating. They can take total control over a person's life and everything that they do or don't do. Your ability to focus decreases. It becomes difficult to problem solve or make sense of what is worth stressing over versus what is an irrational fear. Symptoms that indicate it's time to get professional help include:
Pounding Heartbeat
Chest Pain
Headache
Vomiting or Diarrhea
Trembling
Scatter Thoughts
Erratic Behavior
Sense of Dread
Reduced Self Care
Insomnia
Extreme Fatigue
Panic Attacks
Research indicates that the development of an anxiety disorder is a result of both genetic and environmental factors. Those with a family history of anxiety or other mental health conditions may be more likely to develop an anxiety disorder. A lack of certain endorphins in the brain can also cause an increase in feelings of anxiety. Children who were exposed to stressful or negative events early in life may develop anxiety, especially if they displayed traits of extreme shyness or had parents that placed a lot of pressure on them. Certain medical conditions such as thyroid problems or heart arrhythmias can also cause anxiety.
Studies have also indicated that substance abuse and addiction actually increase anxiety despite the fact that people turn to substances oftentimes to reduce their symptoms. As a person introduces alcohol or drugs to reduce anxiety, the idea is reinforced that increased anxiety will result in increased use of the drug to produce those feel-good endorphins the brain so desperately wants.
Anxiety disorders are the most common type of mental disorder in America today. They affect almost one-third of adults at some point in their life. More than this, over 19% of adults in America have experienced an anxiety disorder within the last year. Finding treatment for these co-morbid conditions is crucial if someone hopes to achieve long-term recovery.
Importance of Treatment for Anxiety
Finding appropriate and effective treatment for co-occurring anxiety and substance abuse disorders is critical if someone hopes to recover. These conditions are intertwined and can worsen and amplify each other in the absence of treatment. For example, an anxiety disorder can worsen substance use as a coping mechanism. Then, substance use can worsen anxiety, creating a downward spiral. Additionally, co-occurring anxiety and substance use issues result in higher relapse rates and increased negative treatment outcomes when the anxiety component is left untreated.
The treatment program at The Summit Wellness Group is a comprehensive, multi-pronged approach to treating anxiety. This is not only the most effective treatment approach, but in the case of anxiety and substance abuse issues, this can be necessary if someone is to have the best chance at recovery. We use medications and psychiatric care, clinical and group therapy sessions, and holistic treatment approaches. We aim to provide the most diverse and varied set of tools to help someone heal and build a happier, sober life.
Some of the different treatment methods we use include:
Group Therapy
Art Therapy
Mindfulness & Meditation Practices
Chiropractic Care
Psychiatric Care
Cognitive-Behavioral Therapy
This multifaceted approach can be very effective. We have several different modes of treatment that can fit any schedule. These flexible anxiety treatment center programs are curated to fit any schedule or set of needs.
Intensive Outpatient Program (IOP): IOP is our standard treatment model. It is suited to working professionals or those with family responsibilities. This program is 3 days per week, days or evenings, for a total of 9 hours per week. It is very flexible and can accommodate most people's schedules.
Partial Hospitalization Program (PHP): This is a more intensive program that provides a more comprehensive level of care. Despite the name, clients are able to return home each night after daily groups. This program is 30 hours per week and provides a very high level of care.
Sober Living: A sober housing facility that provides safe, comfortable living conditions for those attending our programs. The housing facility is located close to our treatment facility and provides a very structured healing environment.
The benefits of anxiety treatment, especially when it co-occurs with substance abuse, cannot be understated. The way that these two conditions seem to intensify each other makes it critical that both issues be addressed at the same time. The tools provided in our treatment programs can help someone with their mental health issues and also give them support and guidance throughout the rest of their life.
Whether your symptoms are mild or severe, it is important to reach out for help if you feel that anxiety has impacted your life in some way. While mild stress can motivate us to get tasks done efficiently and in a timely manner, anxiety that causes any level of distress needs to be assessed by a clinical therapist. They will be able to help put together a plan that best manages your anxiety. Through techniques like cognitive behavioral therapy (CBT), mindfulness practices or medications, a large majority of people are able to work through the causes of their anxiety and move towards a sense of normalcy.
Seeking help at an anxiety treatment center is especially necessary for individuals struggling with both substance abuse and an anxiety disorder as the two can worsen and amplify each other without treatment. If you focus on managing the substance abuse without addressing the possible anxiety disorder that caused it (or vice versa), then the likelihood of relapse increases. By visiting The Summit Wellness Group, we can provide the most effective, multifaceted approach to help you reach remission in both your substance abuse problem and your anxiety disorder for long-term relief and recovery.
You Aren't Alone
We're Here To Help
We'd love the opportunity to help you during this overwhelming and difficult process. The Summit Wellness Group is located in Georgia and all of your calls will be directed to one of our local staff members. Our sincere passion is helping people recover so that they can live full, meaningful and healthy lives.
Call us 24/7 at 770-299-1677. If we aren't the right fit for you then we'll utilize our expertise and connections within the treatment industry to assist you in finding the best provider for your specific needs. Alternatively you can fill out our contact form and a member of our staff will contact you shortly.