Panic Disorder Treatment Program in Atlanta, Georgia
If you've been to an amusement park before, you know what getting in line for a roller coaster ride is like. You think: How bad can it be? As the line moves closer to the front, you begin to have second thoughts. Your heart begins to race. Your mind plays different scenarios of what could happen while you are suspended over 100 feet in the air. You want a way out, but it's too late. It's your turn. That's how people with panic disorders feel in even the most common situations. Individuals with panic disorders cannot always separate feelings from facts.
Dual Diagnosis Treatment Centers in Georgia (Metro Atlanta)
Panic Disorder Treatment Program in Atlanta, Georgia
That's how people with panic disorders feel in even the most common situations. Individuals with panic disorders cannot always separate feelings from facts. The panic disorder treatment in Atlanta, GA, at Summit Wellness Group, knows all too well about this type of anxiety disorder. At our state-of-the-art treatment facility, we can help you get the anxiety treatment you deserve. Life doesn't have to be a constant roller coaster ride. You can get off and get back to life.
The National Institute of Mental Health (NIMH) has completed extensive research into understanding panic disorders and the spiral of emotions connected to them. Their research has shown that approximately 2-3% of Americans experience panic disorder yearly.
Georgia has its fair share of individuals with this medical condition. Below are some of the state's facts.
What Does Panic Disorder Feel Like?
One minute, you're at a restaurant enjoying a meal with friends. You ordered the burger, and it's good. Everything is fine. You're having a great time with people you love being around.
The next minute, you can barely breathe. It feels like your heart will jump out of your chest, your palms are sweating, your body is shaking, and you're freezing.
You barely reach the bathroom before it feels like you lose complete control. You don't know why you're panicking.
The feeling that something life-threatening will happen overwhelms you until it feels like you'll pass out. You don't even bother going out with your friends next time for fear of having another panic attack in public.
For many people experiencing a panic disorder, this is a weekly and even daily occurrence. Because panic attacks are unpredictable in both timing and severity, they can be an isolating experience. They can prevent people from doing the simplest things like going to the grocery store or getting the mail.
If you don't know that you're dealing with a panic disorder, trying to understand what you're struggling with can be a very frustrating experience.
Types of Panic Disorders We Treat
Prompt treatment for panic disorders is necessary. Panic disorders can hinder the quality of life of those impacted. When left untreated, individuals can develop agoraphobia, social isolation, and depression.
Panic disorder treatment centers in Atlanta and Roswell, GA, treat several types of panic disorders.
Panic attacks are sudden and acute episodes of fear and anxiety, often accompanied by heart palpitations, sweating, and trembling; triggers include stress, trauma, and phobias
Generalized anxiety disorder (GAD) is the persistent and excessive worry or anxiety; difficulty managing everyday situations; symptoms include muscle aches, headaches, and fatigue
Phobias are irrational fears of activities, objects, and situations; common phobias are spiders, heights, tight or enclosed spaces, and social situations; triggers include remembering past experiences associated with the phobia and learned behaviors from family members or loved ones
Social anxiety disorder is the fear of anxiety from being in social settings; fear of judgment by others; physical symptoms include trembling, sweating, blushing, and avoidance of most social settings
Post-traumatic stress disorder (PTSD) is brought on by exposure to traumatic events such as war, natural disasters, sexual or physical assault or abuse, and accidents. Symptoms include recurring memories of the traumatic event or experience, mood changes, and constantly being on edge.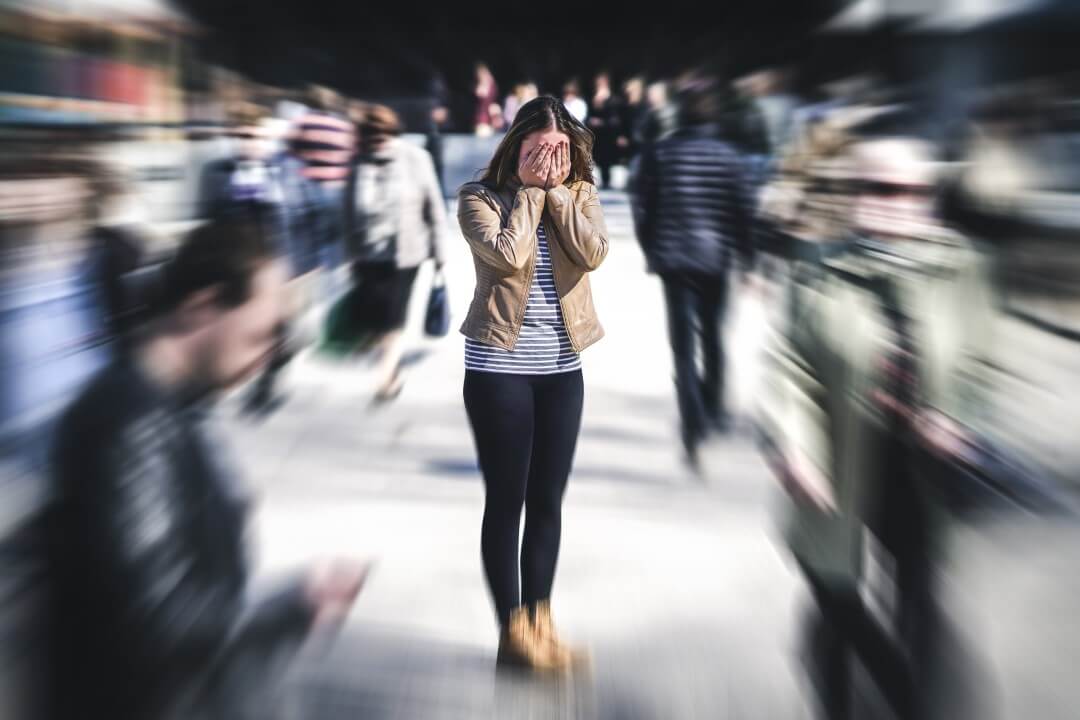 Our Metro Atlanta Panic Disorder Treatment Centers
Our panic disorder Treatment Centers provide an experience unlike most people have seen. Our luxury facilities have the highest quality amenities. This makes your treatment comfortable and safe.
At the Summit Wellness Group, individuals can take control of their panic disorders while receiving varying levels of behavioral health care to receive effective treatment.
Southeast Detox offers the following evidence-based treatment programs:
Partial hospitalization program (PHP) – Sometimes, our clients need more support. Our PHP works to meet those needs. This treatment plan provides intensive individual, group, and family therapy and support services for panic disorders. Treatment occurs daily, where patients return home in the evenings to fulfill personal and family obligations.
Intensive outpatient program (IOP) – IOP is less intensive than PHP. Clients still receive optimal care but come in for treatment 3-5 days a week. Because they do not live at the facility or stay for extended periods during the day, clients can continue to work, school, and other family and personal obligations.
Sober living homes – For some, a fresh start is the key. Our sober living homes offer substance-free structured homes that allow clients to step down from either the PHP or IOP programs in a supportive and independent environment. This program allows our clients to interact with peers who understand how they view the world. Together, they learn coping skills and receive ideal therapy for their needs.
The Summit Wellness Group stands on a set of core values. Each of our treatment options and treatment plans is rooted in these values.
To treat everyone with dignity and respect
A fierce commitment to integrity through ethical and quality care
Honest and open communication
Practice self-care and personal growth
We are independently owned and operated. This gives our staff a say in policies, procedures, and treatment methods. We use this to our advantage, which means our clients receive personalized care specific to their goals.
We have two locations in metro Atlanta.
Our Midtown location is at 996 Huff Rd NW, Suite C, Atlanta, GA 30318.
Our Roswell location is 745 Hembree Pl., Roswell, GA 30076.
Do I Really Need Treatment for Panic Disorder?
Seeking treatment for a panic disorder is an essential step for preventing complications such as:
The development of a phobia
A frequent need for medical care due to health concerns, real or imagined
Avoidance of social situations and total isolation
The development of other disorders like depression or anxiety
Problems with work performance or school work and attendance
Increased risk of suicide or suicidal thoughts
Financial problems
If you are struggling with a panic disorder and substance abuse, the Summit Wellness Group can help. We treat both conditions simultaneously to manage symptoms best and help our clients achieve long-term recovery.
How We Treat Panic Disorders
The Summit Wellness Group programs offer various treatment options. Our clients take control of their panic disorders while receiving varying levels of behavioral health care. We work through treatment to minimize our client's symptoms. This can reduce the frequency of panic attacks. The physical symptoms of panic disorders start to diminish as well.
Talk Therapy
Talk therapy is just as you would think. The therapist engages our clients in verbalizing their emotions, thoughts, and behaviors. Talk therapy depends on open communication for our clients while mutual trust and respect are built.
We use individual, group, and family therapy during our sessions.
Medication
Depending on the severity of panic disorders, medication management can be used to lessen the symptoms of anxiety associated with panic disorders.
Antidepressants are used to control the nerves that send messages throughout the body; regulate serotonin, which stabilizes mood; reduce the feelings of anxiety and prevent panic attacks
Beta-blockers are used to block the effects of adrenaline; controls the symptoms of panic attacks, such as rapid heart rate and shaking
Holistic Therapy
Holistic therapy at The Summit Wellness Group helps our clients recover using the whole-person approach. We address physical, emotional, and spiritual needs.
Our options include the following:
Yoga and therapeutic fitness promote mindfulness and relaxation; reduce stress, anxiety, and depression; improve strength, flexibility, and balance
Massage therapy relieves muscle aches and pains, improves sleep, boosts immunity, and increases range of motion
Guided meditation promotes self-awareness and mindfulness; allows clients to focus on their thoughts, feelings, and bodily sensations
Adventure activities can include hiking, white-water rafting, rock climbing, bowling, and horse farms; forces individuals outside of their comfort zone, gain new skills, and increase self-awareness
Chiropractic care focuses on the spine and nervous system, reduces pain, increases well-being
Nutritional program improves overall health, energy, and immunity; can help to regulate weight and blood pressure and reduce the risk of other chronic illnesses
Art therapy forms of art therapy can include drawing, painting, sculpting, and more; promotes self-confidence and self-esteem; doesn't require dialogue and is judgment free
Acupuncture – improves sleep, decreases pain and anxiety, and aids in overall well-being
Do You Treat Co-Occurring Panic Disorder and Substance Abuse?
Mental illness and substance use disorders can be co-occurring. This means those experiencing the effects of trauma use substances to cope with the illness. This creates a cycle of unwanted behaviors, thoughts, and actions. Both must be treated simultaneously to break the cycle.
While substance abuse can feel like it's helping individuals with panic disorders, the opposite occurs. According to the National Institute of Health, the co-occurrence of anxiety disorders and substance use disorders leads to greater symptom severity in panic disorder symptoms. It also causes greater functional impairment.
Effective treatment is required to address both disorders. This is the only way to improve the overall quality of life.
Find Out More About Our Panic Disorder Treatment Programs in Georgia
We want to normalize the discussion about panic disorders and co-occurring substance abuse disorders. We encourage you or a loved one struggling with the symptoms of panic disorders to reach out for treatment options. We encourage you to visit us at our Atlanta or Roswell locations. You can give us a call at (770) 299-1677 or send us an email at contactus@thesummitwellnessgroup.com.
You Aren't Alone
We're Here To Help
We'd love the opportunity to help you during this overwhelming and difficult process. Our sincere passion is helping people recover so that they can live full, meaningful, and healthy lives.
Call us 24/7 at 770-299-1677 or fill out our contact form and a member of our admissions team will contact you shortly.